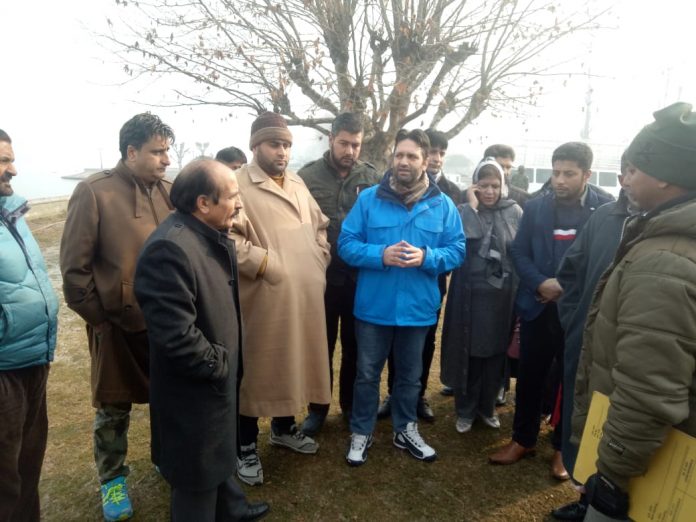 Srinagar, Dec 24 (Only Kashmir): Deputy Mayor Srinagar Municipal Corporation Sheikh Muhammad Imran has hailed joint task force of Army for taking part in Dal Lake cleaning drive.
Pertinently, a joint task force of Army, Land and Waterways Development Authority (LAWDA) and Srinagar Municipal Corporation (SMC) is presently working towards pilot project of cleaning world famous water body tourist attraction Dal Lake.
Due to various reasons, the health of the Lake has been deteriorating, which is a serious cause of concern. To augment the cleaning drive, the State Administration had approached the Army and requested to extend a helping hand in cleaning Dal Lake to which the Army responded positively and undertook the pilot project.
On 22nd December 2018, Sheikh Imran, Deputy Mayor, Srinagar, along with a delegation of 150 people including SMC officials, Corporators, Social Workers, LAWDA Workers and Shikara Dwellers, visited SKICC and applauded the progress achieved by the joint team in cleaning the Dal Lake.
Conveying his satisfaction for the quantum of work done, the Deputy Mayor enquired about the requirement of additional funds and equipments for furthering this project. He also expressed his gratitude to the Chinar Corps for their prompt response in joining hands with the Civil Administration on such a large scale despite their heavy operational commitments.
As a pilot project, this joint task force is working towards improving the present speed of deweeding, assessing the quantum and types of equipments and machines required for deweeding besides ascertaining the strategy to contain the contributing factors of weeding in the Dal Lake.