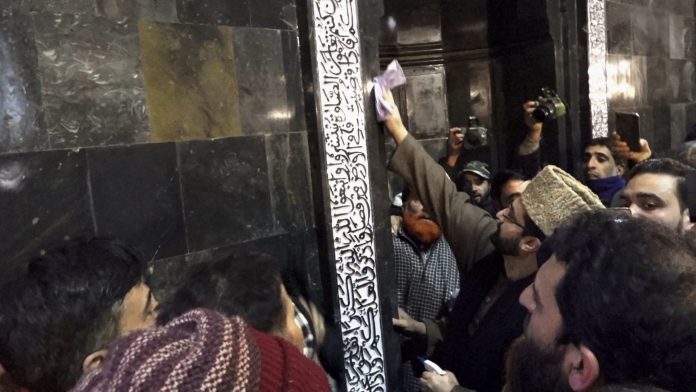 Srinagar, Jan 02 (Only Kashmir): Kashmir's historical Jama Masjid Chief Cleric and Chairman Hurriyat (M) Mirwaiz Umar Farooq on Wednesday led the cleansing drive which saw the participation of hundreds of people from different sections of the society.
The cleansing drive was called by Awami Action Committee following masked youth on Friday storm into Srinagar's grand mosque and waved ISIS Flags from its pulpit with shoes on. The incident evoked widespread condemnation from all sections of the society.
Reports reacing Onlykashmir[dot]in, Mirwaiz Umar Farooq led a rally in which AAC workers, Hurriyat leaders, members and the general public, traders and large number of youth participated who reached Jamia Masjid where the mosque especially the pulpit was cleaned as the hooligans had violated with their boots.
Addressing on the occasion, Mirwaiz said the unison in which all segments of society political religious and civil society have condemned this incident is welcome and a positive step. He said the coming Friday will be observed as Youm-e-Taqadus in which heads of various religious and resistance political parties will jointly raise their voice against this act of attempted desecration of pulpit of historic Masjid and convey a message that nobody will be allowed to tamper with the centrality of Jamia Masjid and what it stands for.
Earlier Mirwaiz chaired a meeting of Awami Action Committee at Mirwaiz Manzil Rajouri Kadal which discussed the attempted violation of the pulpit of historic Masjid last Friday by some hooligans backed by misguided elements and termed it as 'sacrilegious'. They pledged that such incidents won't be allowed to happen again. The participants of the meeting said that any attempt aimed at damaging the sanctity or sacredness of the grand Masjid will not be tolerated.
Addressing the participants of the meeting, Mirwaiz said that old city has always been the epicenter of the Kashmirs spiritual religious quest and its political ideology and the pulpit of Jamia Masjid has represented both these true to the core values of Islam and Tawheed and to the political and social aspirations of its people.
Mirwaizeen along the centuries have preached the message of unity and harmony in Islam besides leading people on their political rights. He said the grand Masjid will continue to spread this message and represent people's right while raising the voice against injustice and repression.
Mirwaiz said that the highly condemnable act that took place on 28th December has left entire valley in a deep shock and hurt their sentiments. He said it's time to isolate those elements who are trying to damage and violate the sanctity of the grand Masjid.
Urging people to stay united on this, he said that "unity among all sects will not allow these elements to damage our religious and social fabric and ethos especially at a time when we as a nation are facing the ultimate challenge in the form of occupation."
Mirwaiz shed light on the importance and sanctity of masjids as explained by the revered Prophet Muhammad (SAW). "Any attempt to change the basic nature of Kashmir dispute will be a great disservice to all the sacrifices and collective efforts put in it by the people of J&K and hence won't be allowed strict vigil has to be maintenance not to allow it," he said.