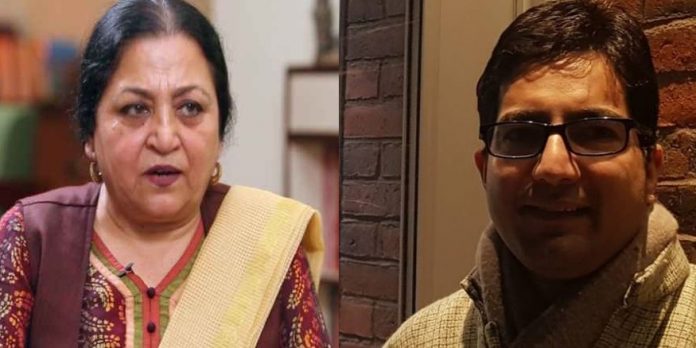 Only Kashmir News Desk
Srinagar, Jan 12 (Only Kashmir): Notwithstanding the debate on IAS officer Shah Feasal's resignation for the reasons "unabated killings in Kashmir, and lack of any sincere reach-out from the Union Government", veteran academic, activist and writer Madhu Kishwar in a series of tweets attacked the former and said that bestowing Shah Faesal with the top rank in IAS was political decision by Congress party in order to create role model for Kashmiri youth.
The 'controversial' writer Madhu Kishwar further alleged that Shah Faesal has serious psychological problems who "tried wooing me by sending on phone sexually charged poems & love messages."
"Kashmiri friends say his high score" in large part due to his Urdu paper. He pretends to speak for Kashmiris but can't even read Sharda, the Kashmiri script. When #ShahFaesal was director education, I pleaded with him to start special department for study of Sharda script & great classics written in that language.He agreed but chickened out saying there will be backlash among Muslims. Instead introduced special scholarships for Persian." Madhu wrote in a series of Tweets.



To a tweet which reads "I can't play #MeTooVictim since I have invariably managed to protect myself from being used or abused sexually by timely & firm handling. #ShahFaesal backed off once he got convinced that I am not available either for flirtation or even a genuine romance," a netizen asked Madhu, Why didn't you file a police complaint? To which she replied, "He didn't touch me. Only wooed verbally. There is no cause for police complaint."
Madhu further said that "When Kashmiri Muslims go to the US, Dubai or England, it's mainly to make contacts with ISI."
Pertinently, the 2010 IAS batch topper Shah Feasal who returned to Kashmir last week, took to Facebook and announced his resignation from the services to "protest against the unabated killings in Kashmir". His decision to resign evoked a debate and made him talk of the town. After two days of resignations, Shah Feasal announced to contest elections.
Meanwhile, in reply to Madhu Kishwar's series of Tweets against Shah Feasal, the netizens mostly Kashmiries termed the allegations against latter as ridiculous.
Earlier, Governor Satya Pal Malik said that Shah Faisal was an efficient and dedicated officer who rendered his services with great zeal and enthusiasm for the welfare of the state and its people particularly belonging to weaker sections of the society. In case he would continue his services as an IAS officer he could serve the people of society in a better way.