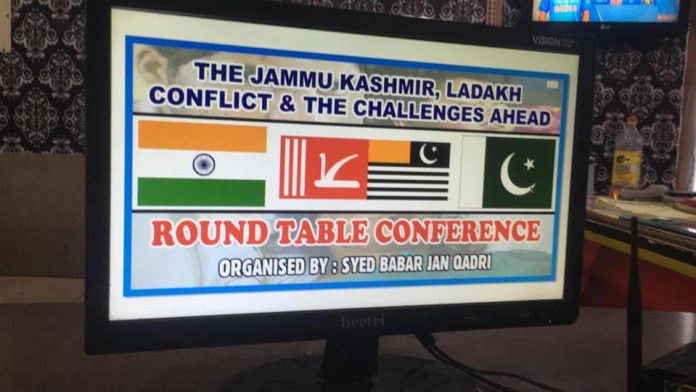 Srinagar, Jan 13 (Only Kashmir): A day long round table conference titled "Jammu, Kashmir, Ladakh Conflict and Challenges Ahead" was held at a local hotel in Srinagar on Sunday. The conference which saw the presence of several youth from different sections of the society including, lawyers, activists, journalists, civil society members and academic was organized by well known Lawyer-Activist, Babar Jan Qadri. Prominent Editor Rashid Maqbool, conducted the proceedings of the conference.
In his opening speech to the daylong conference Babar stated, "Time is now ripe for the youth to speak up so that the daily killings and annihilation are put to an end". He hoped that the conference will provide platform to young minds to deliberate and discuss the issues faced by the people.
Well known Author-Activist, Mushtaq-ul-Haq Ahmad Sikander in his speech addressed the need of putting an end to the civilian and militant killings. He emphasized the need to chalk out new strategies of non violent civil resistance and alternative to hartals.
Shahnawaz Taing, writer observed the need of inculcating values among youth so that the new generation will lead the nation.
Advocate Hilal Wani, emphasized the need of building a new narrative of people's resistance, that will pave way for permanent unity.
Advocate Shahwar Gowhar also pleaded for unity in this era of confusion and choas.
Muhammad Ashraf Mantoo observed that Indian state has choked the space for any type of alternative political space. The state is not providing any space to the youth to vent out their grievances and issues.
Imtiyaz Chisti, observed that there is need for dialogue among all the stakeholders of Kashmir issue and to devise a strategy to end the annihilation in Kashmir.
Musadiq Mehraj and Advocate Javed Hubbi observed that Hurriyat is the real representative of people's aspirations and they cannot be degraded despite their flaws and shortcomings.
Columnist Mushtaq Shamim stated that electoral process and resistance needs to be divorced. Election boycott or voting has no implications on the disputed nature of Kashmir issue.
Speaking on the occasion Journalist Bilal Bashir Bhat said it was high time for New Delhi to end its traditional approach and devise a strategy viz-a-viz Kashmir issue that is mandatory to end the bloodbath.
Amit Ji Wanchoo, of Eaton Laboratories stated that we as Kashmiris need to safeguard our syncretic and pluralistic culture.
Noted Islamic scholar and writer, Ghulam Ali Gulzar observed that we need to safeguard the society from the communal and sectarian strifes. As a one nation we should be cautious of not falling into the pit of sectarian violence.
The participants encouraged the organizers to organize more such discussions and deliberations.
Among those present on this occasion include editor Imdad Saqi, Journalists Ajaz War, Rameez Makhdoomi, Advocate Shahwar Gowher, Advocate Parvaiz Zargar, Entrepreneur Sheikh Inayat, Shariq Maqbool, Saleem Reshi, Zahoor Ahmad (FDEDP), Prof. Dr Nazir Dhar, Dr Nisar Shah and others.