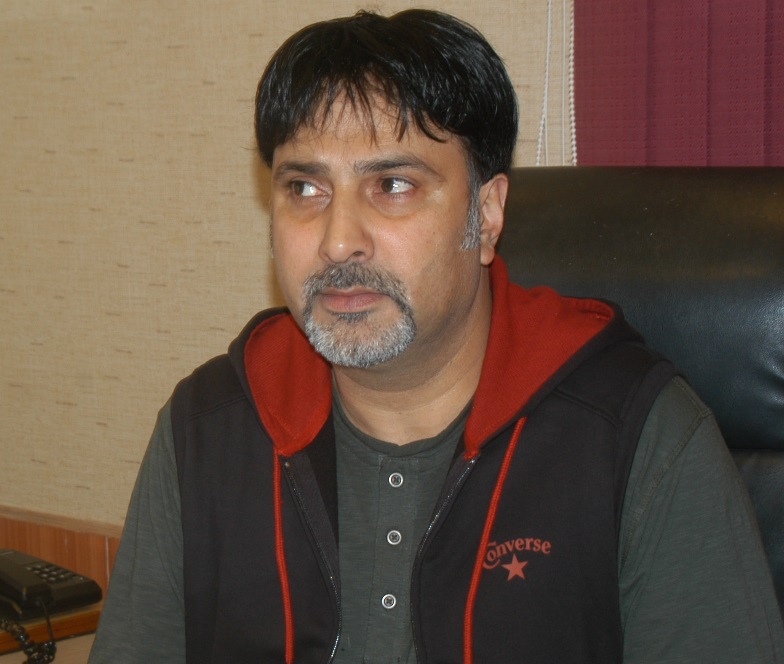 Bilal Bashir Bhat
Srinagar, Jan 19 (Only Kashmir): Cutting across the political lines, voices from several political parties are being raised for the release of Hurriyat (M) Media Adviser Advocate Shahid-ul-Islam on humanitarian grounds following his wife Nuzhat Shah suffered brain hemorrhage last week, out of the stress. The hearing of Shahid-ul-Islam's case is scheduled for Monday, 21st of this month at National Investigation Agency (NIA) Special Court at Patiala House New Delhi.
The erstwhile Chief Minister of Jammu and Kashmir and Peoples Democratic Party (PDP) President Mehbooba Mufti called Home Minister of India Rajnath Singh and appealed the latter for the release of Shahid-ul-Islam on humanitarian grounds. The phone call of Mehbooba Mufti comes after a large number of netizens on internet demanded the release of Shahid. Pertinently, Shahid was arrested by NIA during Mehbooba's tenure as Chief Minister back in 2017.
I share your concern for Shahid Ul Islam. Have spoken with HM requesting his early release on humanitarian grounds as the wife has suffered a brain haemorrhage. https://t.co/onrDfnY05Z

— Mehbooba Mufti (@MehboobaMufti) January 19, 2019

Former MLA Langate, Engineer Rashid also called Governor Sat Pal Malik on phone and sought special intervention from him to help release of Shahid-ul-Islam whose wife is fighting a battle for his release.
Earlier, Deputy Mayor Sheikh Muhammad Imran visited the Shahid's family at Sanat Nagar and expressed concern after witnessing traumatic condition of the family and appealed Governor Sat Pal Malik to use his good office for the release of Shahid.
National Conference, Youth President Salman Sagar said that it is high time for the state Governor Satya Pal Malik to walk the talk and accept the bail plea of separatist Shahid-ul-Islam on humanitarian grounds.
Besides mainstream leaders, several youngsters from different walks of life took to the social media sites wherein they appealed for release of Shahid-ul-Islam.
"Jailed separatist leader Adv Shahid Ul Islam deserves to be released on Humanitarian-Grounds as his wife has suffered Brain Hemorrhage. There's nobody to look after her & their 2 school-going daughters," writes renowned journalist Majid Hyderi.
"Differences apart, GOI should free separatist leader Adv Shahid Ul Islam on Humanitarian-Grounds keeping in view the health condition of his wife who has suffered GOI should have pity on her & their 2 school-going daughters. Despite having differences but I should say all the leaders are sacrificing one or the other way and we should not underestimate this," writes Bilal Ahmad Bhat a journalist.

Pertinent to mention here, prolonged detention of Advocate Shahid-ul-Islam has also given rise to serious concerns about his health as he is already suffering from various ailments. While as his wife Nuzhat Shah last week had a major brain stroke and was hospitalized.
Last year, the two minor daughters of Shahid-ul-Islam wrote an open letter to Prime Minister of India seeking his "personal intervention" in her father's case, Suzanne and Sundas described their father as a "pro-dialogue leader" and argued that no charges have been proven against him.
The Advocate Rajat Kumar, counsel for Shahid-ul-Islam, has filed an interim bail plea for Shahid's release on humanitarian grounds before the designated NIA Court in New Delhi.
Shahid was arrested by the National Investigation Agency in an alleged funding case in 2017 and according to the family sources no charges have been proven against him.
YOU MAY ALSO READ:
Shahid-ul-Islam's wife suffers Brain Stroke, Mirwaiz visits Family, Bail plea filed before NIA