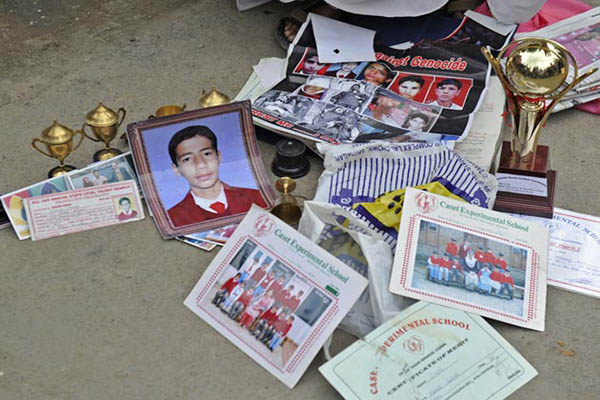 Bilal Bashir Bhat & M.H.A.Sikander
Srinagar, 31 January 2019 [Onlykashmir.in]: It was a cold morning on Tuesday, 1st December 2015, but an advocate was sweating. The bliss and success brought tears of joy to Advocate Aijaz Ahmad Dar whose unflinching efforts for five consecutive years managed to put the accused and guilty policemen behind the bars who 'murdered' an innocent teenager Wamiq Farooq on 31st January 2010.
Wamiq Farooq, a resident of Rainawani Srinagar and a student of class 7th was killed after a teargas shell allegedly fired by police hit posterior part of his head on Sunday 31st January 2010 near Gani Memorial Stadium Dumbpora Rajouri Kadal, Old City.
On the eve of 9th death anniversary of Wamiq Farooq, the Onlykashmir[dot]in had a conversation with Aijaz Ahmad Dar, the practicing Advocate of J&K High court and defense lawyer in Wamiq Farooq Murder Case. Here are the excerpts of the conversation:



Wamiq was playing carom board at Dumbpora near Gani Memorial Stadium near Islamia High School, Rajouri Kadal Srinagar, all of a sudden, a white colored gypsy of Nowhatta Police Station appeared on spot, in which the few police personnel of Police Station Nowhatta, headed by the then Assistant Sub-Inspector Abdul Khaliq Sofi and including Constable Muhammad Akram, fired tear smoke shells which allegedly hit the posterior part of the head of the teenager Wamiq Farooq from a distance of 10 feet. "There was every likelihood and possibility that it caused the Wamiq's death, which even has been claimed and admitted by the ballistic experts in their report submitted to CJM Court Srinagar even the medical report submitted in this behalf corroborated the cause of death by the accelerated propellant which damaged the entire skull as a consequence of which brain matter oozed out completely as Wamiq was profusely bleeding, "Advocate Aijaz said and added, people on spot took him to nearby hospital Sher-e-Kashmir Institute of Medical Sciences, Soura, however, on the way to hospital he succumbed to his injuries and later doctors at SKIMS declared him brought dead.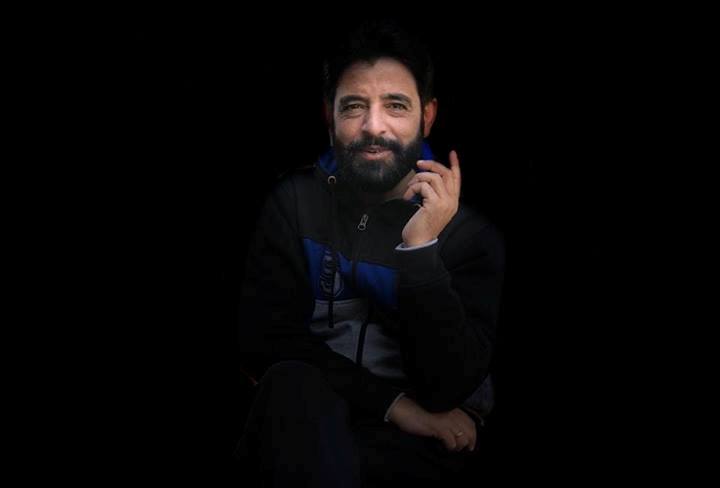 On the other hand, the family had no idea that their ward is no more who had become a fresh victim of the vicious cycle of violence. Waiting for his arrival at home, the family finally went to nearby Police Station (PS) Rainawari, wherein they were asked to go PS Nowhatta, where they were informed that the body of their son is lying in Police Control Room Srinagar.
"Instead of registering the FIR as was requested and begged by Wamiq's father Farooq Ahmad, the police personnel at PS Nowhatta ruthlessly beaten up the father of deceased. The father was roaming helter-skelter for a few days for the registration of FIR, but the police couldn't do it because men in uniform were involved in the murder case," Aijaz said.
Finally, with heavy heart Farooq Ahmad Wani knocked the doors of Court of Law, he filed the criminal complaint before the court of Chief Judicial Magistrate Srinagar and sought the direction upon SSP Srinagar for the registration of an FIR under section 302 RPC for the offense of murder.
To which SSP Srinagar filed a report terming the deceased as 'miscreant' and branded him as a 'stone pelter', while as SP East in his report said that the departmental inquiry is going on in the incident and the erring policemen have been suspended which even caught the headlines of the newspapers, however, the SSP later on exonerated the erring police officials from all charges and as such reinstated them .



In the meanwhile, the Chief Judicial Magistrate Srinagar issued separate order of Magisterial Probe in terms of section 202 of CRPC under which Masrat Shaheen the then (Passenger Tax judge) recorded the statement of 5 eyewitnesses in the court besides she visited the spot and recorded the statement of 3 more eyewitnesses.
"I was accompanying her near Rajouri Kadal, every witness with one voice and with one breath said that it was ASI Abdul Khaliq who ordered for firing of tear smoke shells and were fired by Constable Muhammad Akram. She found policemen were involved in the commission of offenses punishable under Ranbir Penal code." Aijaz Dar added.
On the basis of Magisterial Probe report, the CJM ordered IGP Kashmir to constitute Special Investigative Team in the regard. Instead of following court orders they (Police) filed a revision petition against the order of CJM. The then PDJ Srinagar after hearing my weighty arguments, dismissed the police/state revision petition, however, after this, the state filed 561 A CRPC in the high court which also met with the same dismissal order.
They engaged government advocates, and I also made my appearance and argued vehemently resulting in Justice Mosoodi dismissing their petition.
The then IG Abdul Gani Mir finally constituted a SIT led by SP Ajaz Ahmad Khan, they produced almost a 100 pages report wherein it was said that the deceased (Wamiq Farooq) jumped from a wall which caused major head injuries to him and led to his death.
"CJM, however, took the cognizance of the offense and issued Non- Bailable warrant of arrest against the accused policemen under section 304 part II RPC. Besides, IG was directed to get the orders of the warrant of arrest executed. But to my utter surprise, the IG again filed a revision petition before PDJ which was transferred to 2nd Addl District and Sessions judge Srinagar."
"They (Police) hired a prominent criminal lawyer, who used to taunt me, people from all walks of life used to keep a tap and vigil on the proceedings of the case, they used to love my arguments thus giving me more strength. At the same time, I was very nervous because I took this case not in my personal capacity but as a case of my nation in general and a case of victim family in particular."



"The second additional judge (Kachroo Sahib) after hearing my arguments dismissed the petition, he invited me in his cabin, he offered me a cup of tea and appreciation for my rhetorical efforts and told me that he did not sleep for these months. These words evoked an undefined emotion inside me."
"I saw opposite lawyer calling IG Police, telling him 'we lost the case,' I hugged him. He also reciprocated positively."
"This case also went to Supreme Court of India wherein my submissions and arguments were taken into consideration which ultimately culminated into the judgment and order to the trial court at Srinagar to go ahead with the complaint of the complainant Farooq Ahmad Wani," Aijaz said and smiled.
Pertinently, on 25th February 2018, the accused were released on bail after serving more than three years in central jail Srinagar as prisoners. The case is presently in the court of Lord Chief Justice Jammu and Kashmir Justice Gita Mittal who is expected to hear the two criminal transfer applications of the accused person who have prayed for the transfer of the case to Jammu court from Srinagar.
Pertinent to mention here, the accused have been exonerated from all charges by the then SSP Srinagar as no FIR could be registered against them but instead registered against the deceased Wamiq Farooq even after his death under FIR No 12/2010 under sections 353 147 148 149 307 336 RPC.