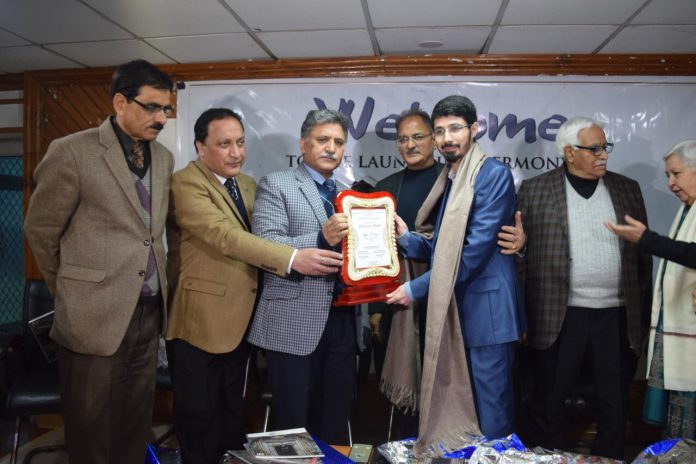 Jammu, Jan 31 (Only Kashmir): A first of its kind Sufi Magazine 'Wajd' was launched in Jammu at function organized by Jammu Civil Society for Art and Literature in collaboration with Nami Dogri Sanstha.
Affan A Yesvi, an award-winning social activist, is the Founder, Editor in Chief and Publisher of the magazine aims to bridge the gap between academic and mainstream writing on Tasawwuf, to archive the modern, cosmopolitan and global citizen's experience of Sufism.
The contents of Wajd include essays, photo essays, interviews, poems, translations, book reviews, calligraphy and other creative works. All contents of Wajd highlight specific aspects of an individual's experience of Sufism.
Sufi writers and other eminent individuals based in Turkey, US, Pakistan, Kazakhstan and diverse parts of India have contributed for the first edition of 'Wajd'.
Addressing on the occasion, Advisor to Governor Khurshid Ahmed Ganai appreciated Yesvi for his vision in bringing out the Sufi magazine and presenting the true picture of Kashmir before the world. He said the magazine has brought to the fore core values of peace, tolerance and power of faith and belief, which had been propagated by Sufi saints and seers. He congratulated Yesvi and his team for bringing out a high-quality product.
The Advisor observed that Sufi Thought and Practice should also be taught in state Universities. He directed Secretary JKAACL to come up with a book on Sufism.
Ex-legislators Kavinder Gupta and Vijay Bakaya, Secretary JKAACL Aziz Hajini, Eminent journalist Sohail Kazmi , Social Activist Roma Wani, members of civil society, and a large number of intellectuals and writers were present on the occasion.
Kavinder Gupta expressed joy at being part of the launch of the Sufi magazine. He said that it was highly important for the youth to take forward the message of peace, harmony and brotherhood in the society.
Vijay Bakaya spoke about the rich Sufi and cultural heritage of Kashmir. He said that Sufi thought was highly relevant to modern times, and it was praiseworthy that such a magazine had been brought out from Jammu and Kashmir.
Secretary JKAACL Aziz Hajini said that in these materialistic times, it was remarkable that Yesvi had invested his time, effort and finances in bringing out a unique Sufi magazine.
Eminent journalist Sohail Kazmi said that a magazine like 'Wajd' is significant because it will bridge the gaps in society and serve as an integrating force.
Social Activist Roma Wani presented the vote of thanks. She said that she firmly believes in the power of divine love in bringing happiness and peace.