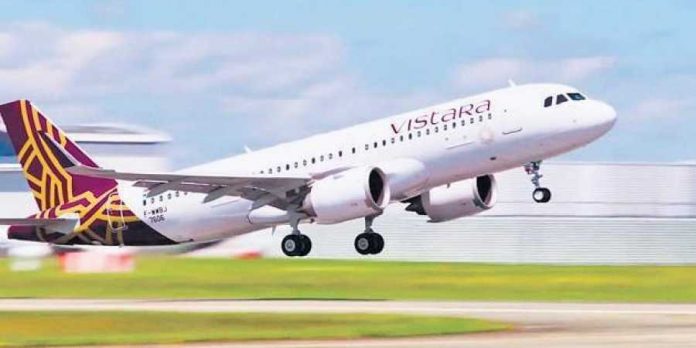 Vistara is a prominent airline of India that is known for its excellent service and great customer friendly attitude. Tata SIA Airlines Limited, operating as Vistara, is an Indian domestic airline based in Gurgaon with its hub at Indira Gandhi International Airport. The carrier, a joint venture between Tata Sons and Singapore Airlines, commenced operations on 9 January 2015 with its inaugural flight between Delhi and Mumbai.
In an exclusive interview with Onlykashmir[dot]in, Vistara Spokesperson talks with Rameez Makhdoomi about different dimensions of the Vistara. Here are the excerpts of the interview:
Future plans of Vistara?
Aligning with the vision of becoming a globally renowned airline that makes people look forward to flying as an experience, Vistara is gearing up to embark on its global journey and commence international operations soon after receiving necessary approvals from the authorities. We would also continue to innovate and find newer ways to delight our customers and keep disrupting the market by introducing various differentiators and unique offering in the future. We have been known for challenging the status quo of the industry right from the beginning and will continue to do so by investing in technology and bringing global best practices to ensure exceptional customer service.
While we plan to spread our wings internationally, we will also have a sharp focus on expanding our footprint in the domestic market, as we think both these networks would be complementary and support each other as we scale up our operations on the two fronts. Vistara has etched a unique space for itself in the domestic market, and our approach to going global will be the same in essence, thereby redefining the flying experience and introducing India's best airline to the world.
How do you view the growth of Vistara so far?
Vistara's growth path has so far been outstanding. In fact, we're overwhelmed by the love of the millions of travelers who have made Vistara their preferred airline. Besides all the honours bestowed upon us in such a short span of time, testify this. There is a clear need for a fine flying experience in the country today, as air travel was hitherto perceived as mundane and just a mechanical mode of transportation from one point to another. Our growth so far clearly demonstrates that people are ready to pay a reasonable premium to fly with Vistara only because they see value in our products and services. We're very happy that we have been able to fill that void to a considerable extent despite being a very young airline. We remain very optimistic regarding our growth as we continue to expand our network.
Any new routes/ flights of Vistara coming?
We've recently placed an order of 56 aircraft, which is a combination of purchased and leased aircraft from Airbus and Boeing that are scheduled for delivery between 2019 and 2023. As we induct more aircraft in our fleet from the Airbus A320neo family (including A321neo) starting next year, we will further densify our domestic network and launch international regional routes to offer more and more choices to our customers. We will share specific details on new routes at an appropriate time.
The mantra behind name Vistara?
Vistara is not just any other airline in India; it is a fine manifestation of the long-cherished dream of its two parent companies. Vistara's biggest strength is its enviable lineage of Tata Sons and Singapore Airlines, two global conglomerates that are respected for the highest standards of service excellence, hospitality and customer-centricity.
The common goal of the joint venture is to redefine air travel in India to provide Indian travellers a seamless and personalized flying experience that blends Tata's and SIA's service excellence and legendary hospitality. This had led to the birth of 'Vistara', which is derived from a Sanskrit word that means 'a limitless expanse'. The name draws inspiration from the world that Vistara inhabits, viz. the 'limitless' sky. Vistara also draws stimulus from the image that passengers most associate with on a smooth and enjoyable flight – the endless, blue horizon they see through the windows of an aircraft.
What potential does India offer in Aviation sector?
The growth of the Indian aviation sector in the past decade or so has been phenomenal. As per IATA's report, India is set to become the world's third largest domestic aviation market by 2025. In fact, the beauty of the situation is that this growth isn't yet at its peak. In a country of a billion-plus people, only about three percent of its population has traveled by air. Therefore, the opportunity for the aviation industry in India is undoubtedly enormous, especially against the backdrop of rapid economic growth, coupled with the burgeoning middle-class and continuously evolving consumer preferences. There is also an increased impetus on the infrastructure development, reduction of taxes and launching various schemes such as UDAN by the government, that's also taking a consultative approach to changes for the benefit of the entire ecosystem. Their vision of enabling a billion passenger trips in a year is especially heartening and makes us quite confident hopeful.
Steps to improve web check-in?
We have recently launched our new website that has transformed the online experience for customers, providing enhanced features, speed, functionality, navigation, and visual appeal, along with an intuitive and clutter-free user interface with all relevant information logically placed and easily viewable.
Prominent awards received by Vistara in 2017, 2018?
With a relatively smaller scale and size, Vistara has carved out a unique space for itself in the domestic market, and the brand is known in the global market as well. We have received numerous 'best in industry awards' over the past years and that fact that we are today recognized as the best airline in the country by several organizations, mirrors our passion for delighting customers. Some of the awards that we received in 2017 & 2018 are:
2018:
Most Passenger Friendly Airline: Ministry of Civil Aviation (Govt. of India), Airports Authority of India (AAI) and Federation of Indian Chambers of Commerce & Industry (FICCI)
Best Regional Carrier – Asia: TripAdvisor Travellers' Choice Awards 2018
Best Airline – India: TripAdvisor Travellers' Choice Awards 2018
Travellers' Choice Winner (Economy Class) – Asia: TripAdvisor Travellers' Choice Awards 2018
Editors' Choice Award for Domestic Full Service Airline: Times Travel Awards 2018
Best Airline – Service Standards (Domestic Category): Pacific Area Travel Writers Association (PATWA), ITB, Berlin
Best Airline Staff – Central Asia and India: Skytrax World Airline Awards 2018
Best Airline – India: Skytrax World Airline Awards 2018
Best Cabin Crew – India: Skytrax World Airline Awards 2018
Best Inflight Service: Zee Business Awards 2018
Best Luxury Travel Domestic Airline: Iconic Awards 2018
Favourite Domestic Airline: Conde Nast Traveller Readers' Travel Awards 2018
Best Airline – Service: Travel + Leisure Awards 2018
2017:
Best Emerging Airline: PATWA at ITB Berlin 2017, Germany
Most Outstanding Airline – Premium Economy & Economy 2017: Travel & Hospitality Magazine
Brand of the Year 2017 by World Consulting and Research Corporation
Vistara selected as India's Distinctive Goodwill Brands 2017 by Brand Advertising Research & Consulting (BARC)
Best Domestic Airline: International Tourism & Conclave Awards 2017
Best Airline (Domestic) 2017: Readers' Poll by Travel + Leisure India & South Asia
Top Rated Airline – 2017 on TripAdvisor
Your message?
Air travel is all about the experience. People are increasingly making travel an important part of their lifestyles and individual growth. For a full-service carrier like ourselves, we believe that the key to staying in business is to keep your fingers on the pulse of consumer trends and to continue to stay relevant. Our strategy is to remain focused on bringing the 'new feeling of flying' to all our customers and continue to find many ways to do it. Our relentless efforts have helped us garner the love of more than 12 million happy customers in a short span of just about four years. We will continue to strengthen our distinctive position in the market by keep surprising our customers regularly in the most appealing, innovative and thoughtful ways.