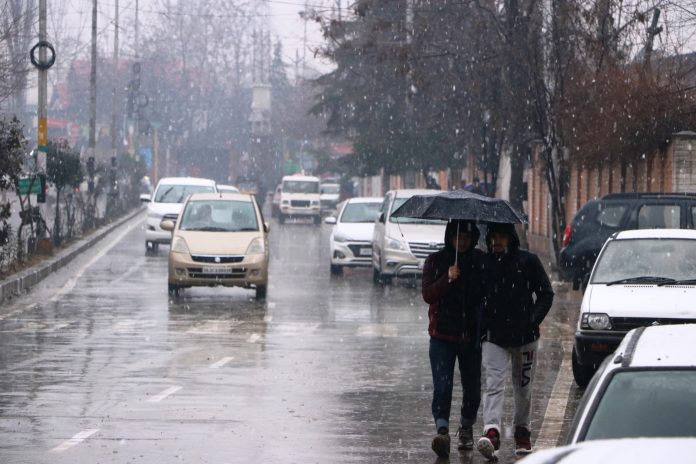 Only Kashmir News Desk
Srinagar, Feb 06 (Only Kashmir): Amid bone-chilling cold weather, the Kashmir Valley on Wednesday received fresh spell of snow and rainfall.
Leading low visibility the downpour in Kashmir disrupted air and road traffic with at least 12 flights have been canceled or delayed.
The flights which have been cancelled include: G8198/129 del Sxr del; G8 213 ixj Sxr ixj; G8 697 del Sxr del: G8 912 Sxr ixc; 6E 2554 Sxr del; 6E 576 Sxr LKO; 6E 653 Sxr ixj; SG 160/161 ixj Sxr ixj; SG 104/939 DEL SXR DEL; UK 611 SXR IXJ; I5 716 SXR DEL; I5 713 SXR DEL.
The 300kms Srinagar-Jammu highway is also closed for traffic, as parts of Jammu have received heavy overnight rains.
The downpour started on Wednesday morning and is continuing till this report was filed.
Roads and lanes in the Srinagar city are inundated with rainwater which has led to waterlogging, traffic James and giving tough time to pedestrians.
Director Meteorological department Sonam Lotus said the rainfall/snowfall was expected in the valley. He said that the moderate rainfall will continue for hours after which the weather is likely to improve.