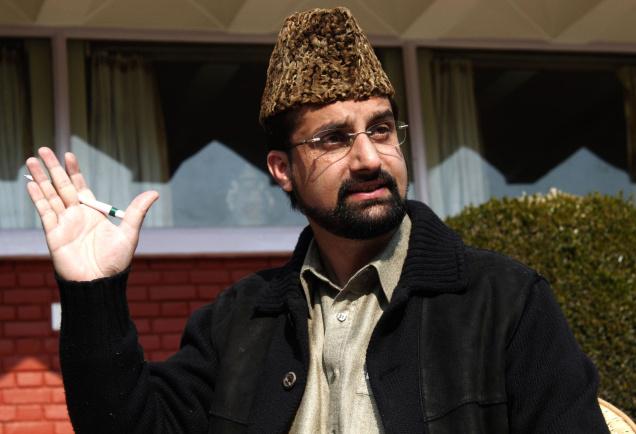 Srinagar, Feb 07 (Only Kashmir): Hurriyat (M) chairman Mirwaiz Umar Farooq expressing deep concern about the fate of people stranded on highways, roads and airports because of inclement weather and asked Kashmiries' to help each other in this hour of crisis.
Taking to micro-blogging site twitter Mirwaiz said "Deeply concerned that hundreds of people are stranded on highways, airports due to inclement weather, facing a lot of hardships, scores of Umrah pilgrims also stranded in Delhi having been asked to stay there till Feb 18 by airlines providing no assistance. Since there are no arrangements in place by the authorities I appeal to people in J&K /Delhi / highway to help the stranded travelers, pray to Almighty that those trapped in snow are rescued safely."
Deeply concerned that hundreds of people are stranded on highways, airports due to inclement weather, facing lot of hardships. Scores of Umrah pilgrims also stranded in Delhi having been asked to stay there till Feb 18 by unconcerned airlines providing no assistance.Since their..

— Mirwaiz Umar Farooq (@MirwaizKashmir) February 7, 2019

Meanwhile, in view of unabated snowing across the valley, the Divisional Commissioner Kashmir Baseer Ahmad Khan today convened a high-level meeting to review the preparedness of all district administrations of the Kashmir Division.
All DCs were directed to monitor all arrangements and preparedness personally and send an hourly report of their respective districts to the Divisional Commissioner.
There is sufficient stocking of Essential Commodities and medicines across all districts of the valley. District and departmental control rooms are working 24×7, the Div Com was informed.
Meanwhile, the Srinagar administration has issued helpline numbers where general public have been asked to contact the following numbers in case of eventualities: DC Office Srinagar 0194-2477033/2452182/9419042342/7051112345, R&B 0194-2313751/7006003383, Fire & Emergency Services 0194-2479488/101/9419251908, MED 0194-2497458/9596193550/9419059311, PDD 0194-2452001/9419008002/9419019634/9419033244, UEED 0194-2500444, SMC 0194-2474499/18001807038, PHE 0194-2452047/9596046111, Health 0194-2452498/9906540795/941900484, Drainage 9906621818, CAPD 0194-2455019, Police Control Room 0194-2452092/100 and Traffic Control Room 0194-2450022
Helpline established by SKIMS
To overcome the difficulties of transportation for critically ill patients due to inclement weather, Sher I Kashmir Institute of Medical Sciences (SKIMS) Medical College/hospital has kept two ambulances for providing services to such patients who need transportation to any hospital within the municipal limits of Srinagar.
The helpline numbers are: Dr Mudasir CMO: 9622726147, 9906853533, Shahid Transport Monitor 7006349353 and SKIMS MCH Exchange no. 0194-2493297.