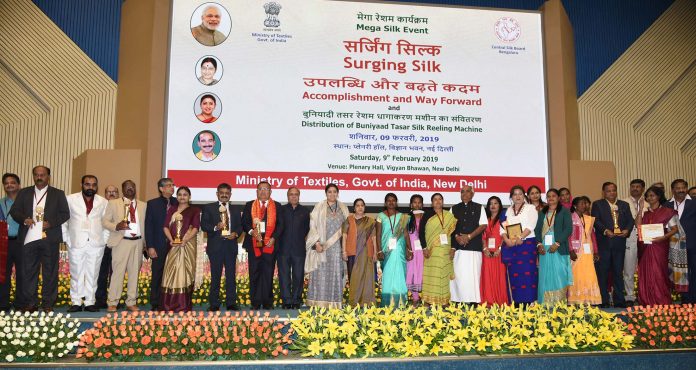 New Delhi, Feb 10 (Only Kashmir): Union Minister for Textiles, Smriti Zubin Irani Sunday presented national awards to three silkworm rearers and one-reeler of the State for their outstanding performance in pre and post cocoon sectors. She presented the awards at a function held here today.
Minister for External Affairs, Sushma Sawraj was also present on the occasion.
The awardees include Raj Mohammad Chichi of Uri, Baramulla, Rashida Bano of Brariangan Anantnag both belonging to Scheduled Cast category and Rattan Lal of Thanadapani, Rajouri while as Maajid Hayat Bawan of Wanbal, Srinagar has been awarded as a young entrepreneur under reeling sector.
The three award-winning silkworm rears have been honored under the highest productivity category despite belonging to remote areas of the country.
Braving the hardships and challenges they have drastically increased their cocoon production during recent years and have created motivation among their fellow villagers for silkworm rearing.
Likewise, the role of Majid Hayat Bawan has been remarkable in promoting the post cocoon activities and increasing the silk yarn produce through Automatic Reeling Machines (ARM), which bagged him national award.
Simriti Irani while complementing the awardees said that the private players have immensely contributed to increasing the cocoon production that has led in upscaling silk production and decreasing its imports.
The awardees expressed their gratitude to the Sericulture Development Department for extending facilities and incentives for enhancing their capabilities for cocoon and silk yarn production.