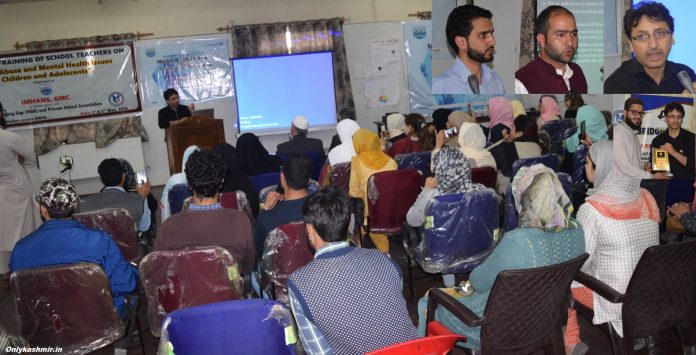 Bilal Bashir Bhat
Srinagar, May 02 (Only Kashmir): Two Days workshop for School Teachers on the topic of "Drug Abuse and Mental Health Issues in Children and Adolescents," conducted by Institute Of Mental Health and Neurosciences (IMHANS), Government Medical College in collaboration with Bridging Gap and Private School Association at Community Center SMHS Complex concluded on Thursday where speakers stressed upon the need for awareness about drug abuse leads to mental health issues.
Pertinently, President Private School Association Ghulam Nabi Var was chief guest on the occasion, besides, many individuals including Muhammad Huzaif of Bridging Gap were felicitated for their exemplary work in awakening the masses about the bad uses of drugs.
On first day, Dr, Yasir Hassan Rather, Associate Professor spoke about the Overview of Substance Abuse followed by the speech on the topic of "Psycho-Social aspects of the drug addiction" by Sameer Ahmad Lecturer and Social Activist. Both the speakers on the occasion said substance use is generally initiated in adolescence or early adulthood and is commonly associated with a variety of problems, adding, these problems can be in any area of the client's functioning: physical, psychological, family, interpersonal, social, academic, occupational, legal or spiritual.
Speaking on the occasion on the topic of 'Cannabis, Solvents/ Alcohol Abuse', Dr. Hamid Ismaiel (Registrar) said Alcohol and other substance use are on the rise among the young across the globe. Studies indicate that substance abuse behaviors generally begin during adolescence whose consequences pose important public health problems.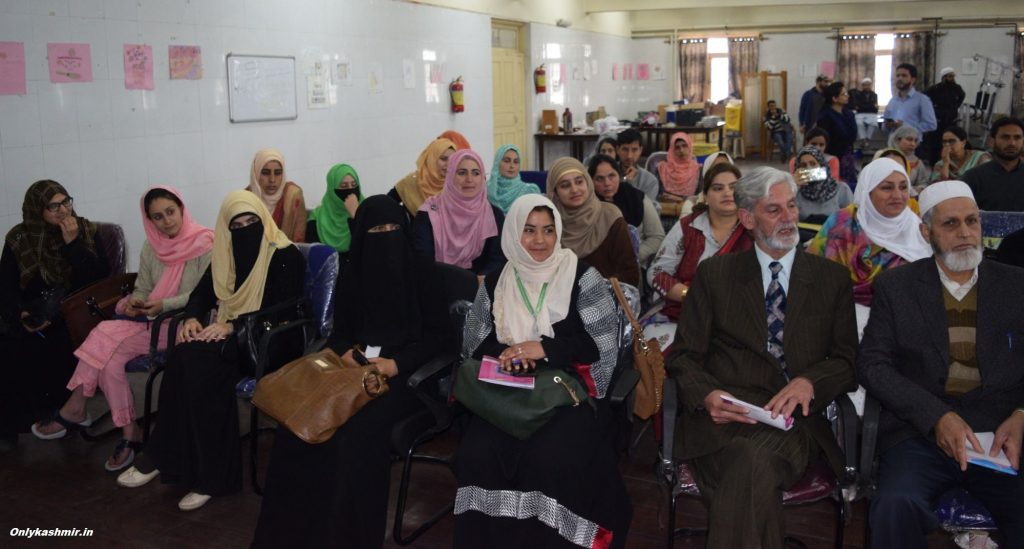 During second session of the first day, the speakers including Dr. Sanjeet Kour, and Mr. Sameer Ahmad Lecturer and Social Workers stated the substance abuse is fast becoming one of the major health-related issue for adolescents and young adults. They added majority of the users are aware of the potential negative effects of substances but initiate substances out of peer influence and curiosity.
On Day second, Dr. Syed Karar (Registrar) and Mr. Amir Bashir (Counselor) in their separate speeches brief the audience about Child Psychiatry and Child Abuse respectively.
"The Islamic view of the use of drugs or alcohol is quite clear, Islamic law seeks to protect the belief in Allah by promoting life, the maintenance of property, and the maintenance of a healthy state of mind," this was stated by Khalid Hussain, senior member 'Bridging Gap' an online social activism forum. He said it is obligatory on teachers to aware their students about the bad use of drugs and to aware them.
Speaking on the occasion, prominent social activist and lawyer Syed Mujtaba draw light on legal aspect of the Drug Addiction he said there is a need to initiate educational programs for the adolescents aimed at to address issues such as resisting peer pressure, finding healthy avenues to feel good about self, family history of substance and family values related to substance use behaviors.
Besides others, Mr. Muhammad Shaheen (Occupational Therapist) and Ms. Joytica Rana (Clinical Psychologist), also spoke on the occasion. (OK)
Photos/Iqbal Beigh