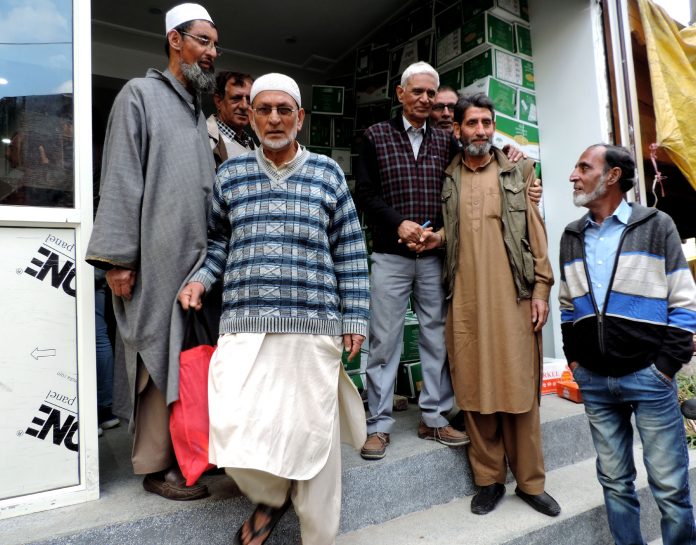 Srinagar, May 02: It took Roshan Lal almost 30 years to take a call on returning back to his home land—Kashmir where from he along with his family members had migrated in 1989.
His decision to come back to his roots and to start a fresh business to earn his living evoked tremendous response as he was received by his old friends, neighbours and youth with same love and warmth that he had left behind three decades ago in down town Srinagar.
People, especially his friends and neighbours are flooding the house of Roshan Lal at Gade-Kocha locality of Zaina Kadal area of downtown. Hugs, exchange of greetings and last but not the least, emotional scenes have been routine affair at Lal's house at downtown since the moment he returned to his home after a gap of 29 years on Wednesday.
Lal had sustained injuries caused by multiple bullets fired at him by unidentified gunmen in hey days of militancy in Kashmir that became the reason for his migration. "Four bullets pierced through my belly and then I opened my eyes in an army hospital," recalls Lal, walking down the memory Lane.
Lal along with scores of Kashmiri Pandits migrated from Kashmir to other states of the country. After having spent more almost three decades in New Delhi, 70-year-old Pandit decided to return to the valley to renew his age-old bonds with the Muslim brethren and to re-start his business as a trader again.
Roshan Lal Mawa a Kashmiri Pandit trader who returned to his motherland Kashmir opened his shop after 29 years being garlanded by a fellow businessman at famous Gaad Kocha in down town Srinagar on Thursday. (UNI)
"I have a bustling business in New Delhi and was living a king's life there. But I always missed Kashmir. I missed the love and care of my people. Memories of Kashmir's pristine beauty and culture kept me haunting every day," beamed Lal, who was surrounded by his old pals and neighbours.
Having left the pain of past and business behind in New Delhi, Lal inaugurated a shop in Zaina Kadal area of Srinagar's downtown. The video of shop inauguration soon went viral on social media. Hel has set up a dry fruit shop and will be particularly dealing with wholesale of dates, ahead of the commencement of holy month of Ramadhan.
Lal said that despite most shopkeepers here dealing with dry fruit business none missed the chance to welcome him. "My request to all the KPs who have migrated must return and revive their bonds here. Every heart in Kashmir is filled with love," he said as customers lined up at his shop to buy different varieties of dates.
Courtesy: KNO