Aaghaz-e-Dosti appeals Indo-Pak to restore Peace across LoC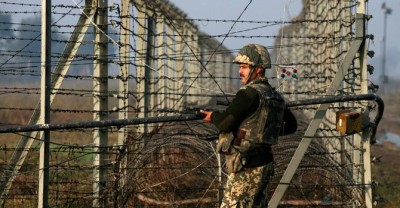 New Delhi, May 15 (Only Kashmir): Expressing concern over the growing incidents of ceasefire violations widely reported on both sides of Indo-Pak LoC, Aaghaz-e-Dosti a group of common people, mostly youth of the two countries in a statement has appealed for finding measures to restore peace and to respect ceasefire agreement of 2003.
"We are concerned about recent unfortunate developments across LoC wherein incidents of ceasefire violations have been widely reported on both sides. This exchange of fire has claimed lives of armed forces personnel and even of civilians on both sides. We are deeply disturbed by reports that border villages have been affected with such cross-border fire where even houses have been damaged."
On the Indian side, it is said that over 1000 people have been evacuated from border villages to provide them with safe living areas, and approximately 87 schools have been shut including 51 in Nowshera sector and 36 in Manjakote and Doongi zone. With the shutdown of schools, approximately 4600 students are affected. It is said that firing from long range mortars and automatic weapons are still continuing.
On the Pakistan side, it is said that unprovoked firing from India has resulted in the loss of civilian lives and injury to few others. It is said that the Indian side violated ceasefire in sectors mainly in Karela, Kotkotterra, Sabzkot, Baroh, Tandar, Khanjar.
"We need to understand that an entire population living in the vicinity of LoC is tramautised by such violations that can start at any point in time. We also firmly believe that beheading and mutiliation of soldiers must be stopped, and strict instructions to security forces by governments must be given against such acts."
Civilian population on both sides of the LoC desire and deserve peace, while their lives depend on the peaceful relations between the two nations.
"We believe that governments on both sides are capable of taking effective and positive measures in this regard. We remember that various effective, people friendly measures such as ceasefire agreement, Dosti bus service, Samjhauta express train service, cross LoC trade routes opening etc have been taken in the past by governments of both sides, and there are so many things that still remain that need to be done in the larger interest of the people, especially for those who are directly affected by such violations."
"We have all the faith in our governments and we believe that their concerned officials may have been working on restoring the peace. Yet, through this appeal, we would like to convey our request and the desire of millions of people, especially the young whose future needs to be respected and safeguarded, to strengthen the strife for peace across borders," the statement reads. (OK)
Discussion