News in Spotlight,World Watch
Abdul Basit to be appointed as Pakistan Foreign Secretary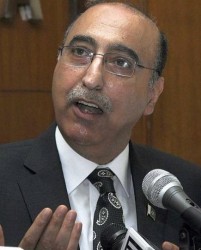 Islamabad, Feb 04 (Only Kashmir): Pakistan's High Commissioner in India Abdul Basit is set to replace Aizaz Ahmad Chaudhary as the new Foreign Secretary, while as former will be appointed as Pakistan's ambassador for the United States following the Jalil Abbas Jailani's relinquishment.
According to Pakistan Media, Chaudhary has been designated to become country's envoy in the United States.
It is likely that the announcement pertaining to the appointment of Abdul Basit would be made next week. Basit was selected for the job three years back but couldn't be appointed due to technical reasons and was instead posted as high commissioner in New Delhi.
Meanwhile, Pakistan's ambassador for the United States Syed Jalil Abbas Jailani has relinquished the charge on completion of his contractual period as ambassador in Washington.
Rizwan Saeed Sheikh will be acting as Charged D' Affairs in Washington till the arrival of Aizaz Chaduhary in the US capital. According to sources, Pakistan will take decision about new the high commissioner in India after return of Abdul Basit.
Discussion