All you need to know about Chenani-Nashri Tunnel in Jammu and Kashmir




Bilal Bashir Bhat | Onlykashmir.in | 03 April 2017
Follow @bilalbashirbhat
Matching the global standard the world's one of the largest tunnels, the Chenani-Nashri Tunnel (CNT) in Jammu and Kashmir which was Sunday 02 April 2017 inaugurated by Prime Minister of India Narendra Modi has become an attraction for tourists in and outside the India. This tunnel according to the observers will undoubtedly boost the tourism in Kashmir and economic growth. Here are some interesting points you need to know about this tunnel.
The project of CNT was started on May 23, 2011, after Congress General Secretary Rahul Gandhi laid its foundation stone. It was originally scheduled for completion by August last year.
The tunnel is located on the lower Himalayan range at an altitude of 1,200 meters.
The world's sixth road tunnel has a transverse ventilation system enabled and controlled by ABB software. It also boasts features like Integrated Traffic Control System (ITCS), Video Surveillance System, FM Rebroadcast System, Entrance Detection-Control System and Active Firefighting System.
The tunnel has absorbed a sum of Rs 2,519 crore in its construction.
The tunnel features a state-of-the-art ABB ventilation system to ensure that users have access to fresh air as they drive through it.
The tunnel will save fuel worth nearlyR 99 crores a year. "Rs. 27 lakh worth of fuel is likely to be saved per day.
Mobile network and FM Radio channel facility are also functional inside the tunnel.
The distance from Chenani and Nashri will now be 10.9 kms (between two ends of the tunnel), instead of the existing 41 kms.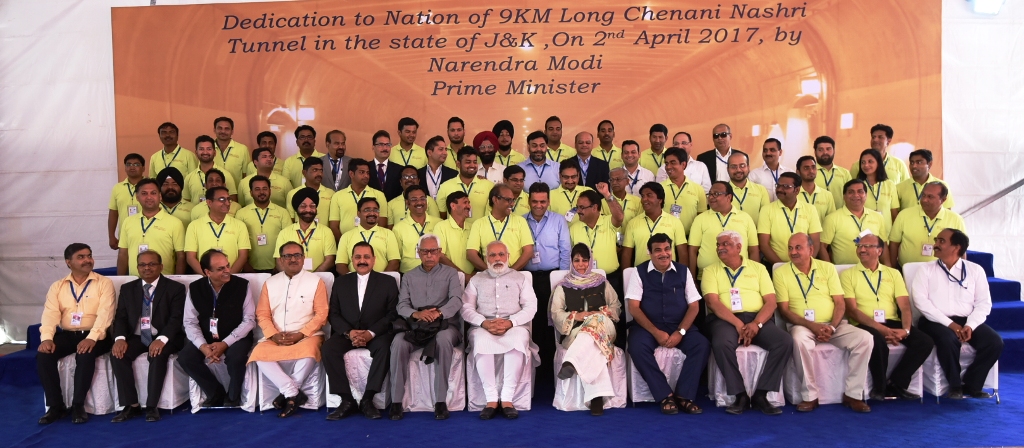 The CNT project provided employment to more than 2,000 skilled and unskilled Jammu and Kashmir youths. Ninety-four percent of the workforce has been employed from the state, particularly Kashmiris worked on this project in 3 shifts over the past 4 years.
The road tunnel will reduce the travel time between the two state capitals of Jammu and Srinagar by approximately two hours and Patnitop, Kud, and Batote will be bypassed.
The maximum speed limit to be followed in this tunnel is 50kmph and headlights will have to be low beam.
A unique feature of the tunnel is that at every 150 meters it has an emergency SOS box and a safety evacuation passage connecting to a safety tunnel constructed parallel to the main tunnel.
The main tunnel is 13 metre in diameter, the parallel escape tunnel is 6 metre diametre and are connected by 29 cross passages at 300-metre gap.
There are 124 closed-circuit TV cameras for surveillance inside the tunnel.
After reading all these above points the Onlykashmir.in brought to you, we hope it has developed an interest in you to visit or ride via this tunnel. So what are you waiting for, the captivating beauty of Kashmir is calling you and the weather is so pleasant?
Discussion