Another girl Khusboo Jan injured in Stone pelting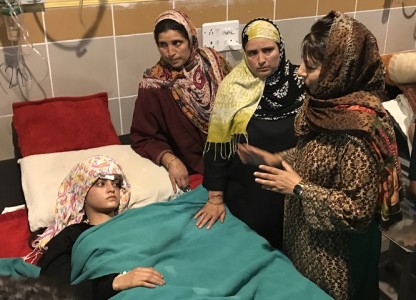 Srinagar, April 20 (Only Kashmir): A girl identified as Khusboo Jan was Thursday hit by a stone on her forehead during a stone pelting incident in Braripora Nawakadal. Pertinently, Iqra, a student of Nawa Kadal College Srinagar, injured severely during student protests on Monday.
According to the police spokesman some students of Government Higher Secondary School Nawakadal (Dhar School) pelted stones upon forces camp at Braripora Nawakadal.
During this stone pelting one girl namely Khusboo Jan daughter of Ghulam Mohammad Kuchay resident of Noorbagh was hit by a stone on her forehead. She was shifted to SMHS Hospital for treatment where her condition is stable so far.
Pertinently, Iqra, was seriously injured after a paramilitary CRPF trooper used his catapult to target her. She was hit by a stone on the left side of her head, created a contusion and fracture.
Students held protests across the valley on Monday against weekend police raids in Pulwama college, where at least fifty students were injured.
Discussion
One Response to "Another girl Khusboo Jan injured in Stone pelting"