Authorities in Kashmir deeply disturbed by Student Unrest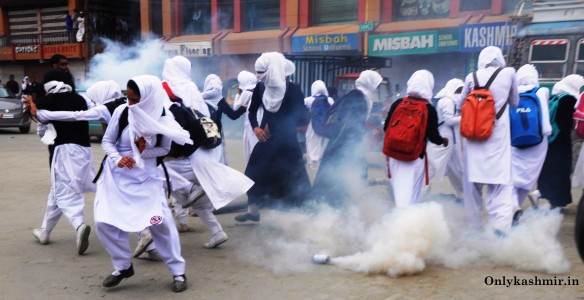 Bilal Bashir Bhat
Srinagar, May 11 (Only Kashmir): The Jammu and Kashmir Government and the Governor of the state are highly concerned over the growing student protests in the length and breadth of Kashmir Valley. Despite the appeal "your brothers are alive yet" by Hizbul Mujahideen commander Zakir Musa to female students to abandon stone pelting, there has been a sharp rise in the involvement of female students in protests. The security agencies dealing with student protestors have been strictly directed to exercise maximum restraint.
The police raid on the college in Pulwama triggered widespread protests by students across Kashmir on April 17 which has been going on intermittently since then. Authorities suspended class work in the higher educational institutions for over a week last month as a precautionary measure.
"There are some who pelt stones, but not all the youth from Kashmir do so. I urge the national media not to highlight discussions that "developed hatred" against the people of the state. Kashmiri students were "angry and disillusioned", Chief Minister Mehbooba Mufti told reporters at a brief interaction at the opening of the Civil Secretariat here, referring to the ongoing student protests.
The chief minister believed that some students were being "provoked". "Some are being provoked. I think we should all work together to resolve this situation," she said. The situation was "serious", she added. "But I do not think it is something which cannot be resolved," she added.
N.N. Vohra the Governor of Jammu and Kashmir soon after his return from Delhi wherein he called Prime Minister and the Home Minister of Country, held a series of meetings including with Chief Minister Mehbooba Mufti and stressed to take all required steps for ensuring that the student community is immunized.
"Governor has been repeatedly stressing his concern that the educational interests of the entire student community must be vigorously advanced and selfishly protected and, under no circumstances, should the future careers of the student community be allowed to get exploited or compromised in any manner," a Raj Bhavan spokesman said here.
On Tuesday massive clashes were witnessed between forces and students of SP Higher Secondary and Womens College on MA road in Srinagar, forcing authorities to suspend work for next two days.
On Wednesday Altaf Bukhari, Minister for Education briefed the Governor about the steps so far taken by the School and Higher Education Departments and the initiatives personally taken by him to see that students are protected from involvement in law and order incidents.
"The students should have been busy and involved in academic and co-curricular activities rather being chased by law enforcing agencies on the roads. This is really a dismaying and disturbing situation which needs to be addressed through coordinated and vigilant efforts of teachers, parents and the society," Bukhari said.
The Education Minister informed that the Government was prompt in its action against trespassing in Pulwama Degree College. "We ordered a time-bound inquiry and completed it in 8 days and it was followed up with tangible action. I fail to understand why are the students now on roads?," he said.
As the Student protests in Kashmir is showing no sign of ceasing, the security agencies dealing with student protestors have been strictly directed to exercise maximum restraint. Unlike in recent past, there were no reports of forces using pellet fires on protesters.
Commenting over the student protests, Hurriyat hawk Syed Ali Geelani said "as far as the ground situation is concerned, there is simmering lava against excesses perpetrated by the government, army and its police," said Geelani and added "career of our students is at risk and this is unbearable.
Mirwaiz Umar Farooq Hurriyat (M) Chairman said student protests does not only stem from political aspirations but also due to continues repressive policies, adding, such subjugating and depoliticizing the younger generation is destroying their lives and educational career.
"Students overwhelming emotional outpouring is a moving expression of their anger and anguish against political uncertainty and Military occupation which they are fed up with and having a deep yearning for justice and resolution of the Kashmir dispute," Mirwaiz said in a statement issued on April 29.
Earlier Hizbul Mujahideen commander Zakir Musa on Saturday urged female student protesters to abandon stone pelting saying "your brothers are alive yet".
"I want to tell the sisters that whatever you are doing is against Sharia (Islamic ruling) as throwing stones without veil is un-Islamic. In Islam, there are no such protests and that is why Allah is punishing us in the form of occupation," said Zakir considered as Burhan Wani's successor in an unverified audio message.
Pertinently, The Jammu and Kashmir Government on April 23 asked the internet Service Providers (ISPs) to stop transmission of around 22 social networking sites including Facebook, Twitter, Whatsapp in Kashmir with immediate effect.
The order states that as per available inputs, over a period of time, a progressively increasing trend has been witnessed with regard to misuse of social media, like Facebook, Twitter etc by the elements inimical to public order and tranquility, thereby impinging on public safety, particularly in the Kashmir Valley. (END)
Discussion