Awarded for killing Burhan Wani, Army men reveals encounter story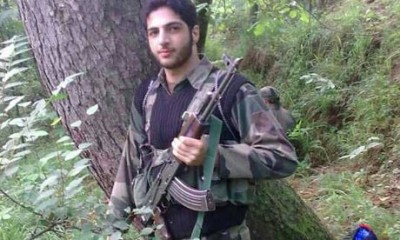 Bilal Bashir Bhat with inputs from Agencies
New Delhi, Jan 27 (Only Kashmir): On the eve of 68th Republic Day three Army men have been awarded Sena Medal for having gunned down militant commander Burhan Wani. The story of the Army men reveals that they were unaware of the presence of Burhan Wani at encounter site whose killing plunged the valley in uprising that lasted for months and resulted in killing of 100 civilians and maiming hundreds.
Major Kumar, Captain Manik Sharma and Naik Arvind Singh Chauhan of Rashtriya Rifle were awarded Sena Medal for killing Burhan and two of his associates.
As details of the 8 July operation last year emerge, it transpires that young Major Sandeep Kumar, who led the crack team following "actionable" intelligence input that Sartaj Aziz and two other militants were hiding in a house in Bumdoora village. The village, 18 km southeast of Anantnag (Islamabad), was cordoned off but the news of Army's presence got leaked, as a result protesting crowds began swelling by the minute, shouting slogans and pelting the Army contingent with stones.
Leading the assault team, Captain Sharma and two others even made an attempt to enter the house as Major Kumar stood behind them, ready to provide cover fire. However, they had to retreat amid heavy stone-pelting by the villagers.
"We were counting every minute and even planning to throw a cordon around the house as dusk approached fast and with it the milling, restive crowd carrying stones," recalled a police officer who was in touch with the Army contingent from the district headquarters.
Major Kumar and his team made another attempt to storm the house and the militants opened a burst of gunfire. Aziz made an unsuccessful attempt to escape, but was shot dead.
Time was running fast and two more militants, who were believed to be inside, were to be accounted for. As violent protests grew more and more intense, Major Kumar sent for the local 'Imam' whose services were to be used to calm the villagers.
With light fading away fast, there were no signs of villagers' aggression or numbers diminishing. The valiant Major and his men then decided to storm the house but came under a hail of fire from two militants who attempted to escape.
Militant Pervaiz Ahmad Lashkari was seen firing while shielding a man and pushing him towards a nearby apple orchard. Lashkari was gunned down in retaliatory fire by the crack team, which also challenged the lone surviving militant.
It was later discovered that the last militant killed was Hizbul Mujahideen commander Burhan Wani, the poster boy of resurgent militancy in the Kashmir valley who carried a bounty of Rs 10 lakh on his head.
Pertinently, following his death on July 08, 2017, during an encounter the Kashmir valley witnessed first of its kind violent protests for long 5 months. Burhan, who had a bounty of Rs 10 lakh picked up arms when he was merely 15-years-old and was known to use social media to reach out to youth.
Following his killing YouTube is abounding with videos of Burhan Wani. Some 5 lac people despite Curfew and restrictions participated in Burhan's funeral. Burhan was termed a 'hero' by Prime Minister Nawaz Sharif during his speech at United Nations general assembly.
The Sena Medal is awarded to members of the Indian army, of all ranks, "for such individual acts of exceptional devotion to duty or courage as have special significance for the Army. It can be awarded for gallantry or it can also be for distinguished service carried out by any soldier, not in the face of the enemy. (OK)
Discussion