News in Feature
Dead body brought to incarcerated Geelani's home for leading funeral prayers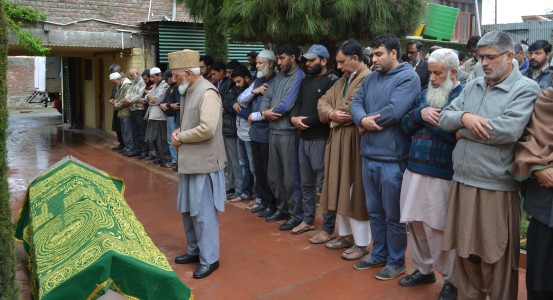 Srinagar, April 01 (Only Kashmir): What can be more ironic that a dead body was brought inside the residence of Hurriyat hardliner Syed Ali Geelani for leading the funeral prayers of the deceased after police disallowed Geelani to step out to lead prayers who is in under house detention from last 2 years.
"Since Syed Ali Geelani is under house arrest and forces & police personnel are deployed outside his residence and couldn't extend his condolences with the bereaved family. The grieved family expressed their desire and insisted Geelani to lead funeral prayers. The dead body was brought to his residence where Syed Ali Geelani after offering funeral prayers addressed mourners," a member of the bereaved family said here.
Addressing the gathering Geelani expressed his heartfelt grief over sad demise of wife of close neighbor, Miya Bashir Ahmad. Syed Ali Geelani while extending his condolences with the bereaved family said that every soul has to experience the taste of death and death is not the expiry of the soul but it is departure from the body.
In present circumstance, it is impossible to migrate as there are compulsions but no lame excuse for maintaining silence, said Geelani and added, we need to exhibit our determination, commitment and resolve for resolution of sacred goal
Discussion