Dialogue only way to move ahead: Mehbooba Mufti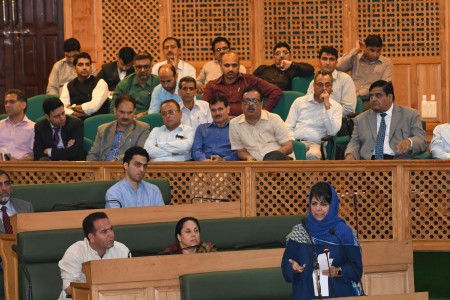 Srinagar, Jun 17 (Only Kashmir): Reiterating her stand that dialogue is the only way forward to get the State out of the web of uncertainties, Chief Minister, Mehbooba Mufti said the roots of the present situation lay in the fact that democracy in the past was not allowed to flourish and dissent was throttled.
Speaking on the Obituary Reference in the House today, the Chief Minister said it was a matter of satisfaction that the constituency for dialogue and reconciliation in the State is expanding like never before. "I am happy to see Shafi sahib (of National Conference) demanding for dialogue and ceasefire. This is unlike the past when I demanded conducting dialogue with separatists, the then Chief Minister threatened to throw them in Jhelum," she said. Similarly, she said, when she raised the same demand before the then Prime Minister, I K Gujral at Qazigund, the then Chief Minister said he would revolt if talks are held.
Mehbooba Mufti said she was satisfied to note that people have changed opinions and the option of dialogue is getting greater acceptability. She said despite the two countries having fought four wars over it, Jammu & Kashmir continues to bleed and that is why dialogue with all stakeholders in the State has been prioritised in the Agenda of Alliance of the present Government.
The Chief Minister said the present state of uncertainty in Jammu & Kashmir has its roots in muzzling of dissent as a result of which many people who wanted to join the mainstream politics were forced to choose otherwise. Had the democratic exercises like 1987 election been conducted fairly and voices of dissent given the respect they deserved we wouldn't have seen the terrible phases the State has been passing through, she added.
On the idea behind convening the special session of the legislature over GST, the Chief Minister said her Government believes in empowering this House and respecting the voices of dissent which unfortunately have been muzzled in the past. She said the aim is to allay fears and misunderstandings among people on this issue. She said this is for the first time in the legislative history of the State that wider consultations were held and a special session of the House was convened to decide whether or not to extend the law to the State.
Strongly condemning the dastardly killing of six policemen at Thajiwara, Achabal, Mehbooba Mufti paid rich tributes to the policemen and civilians who were killed in various incidents of violence yesterday.
Discussion