Joint pro-freedom leadership calls for Election Boycott, strike on polling days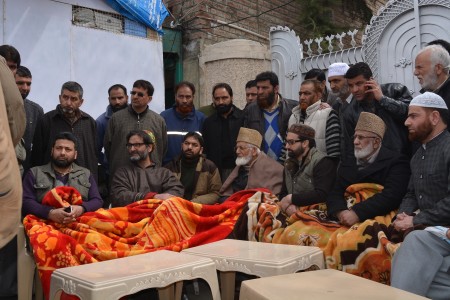 Srinagar, Mar 16 (Only Kashmir): The joint pro-freedom leadership led by Syed Ali Geelani, Mirwaiz Umar Farooq and Muhammad Yasin Malik who Wednesday were disallowed to address a press conference has called for election boycott for the forthcoming parliamentary by polls in Srinagar and Anantnag constituencies. The leaders have also appealed people to observe complete shutdown on polling days i.e. on 9th and 12th April 2017.
The leaders in a joint statement issued to Onlykashmir.in said that the polls in Kashmir have no credibility in presence of 10 lac forces. Terming these elections as mere 'drama' the leaders said that this practice was aimed to mislead the world, adding, people must safeguard the sacrifices given for the Kashmir cause.
Earlier the top pro-freedom leaders including Syed Ali Geelani, Mirwaiz Umar Farooq and Yasin Malik were arrested from Hyderpora Srinagar to foil their proposed press conference, resulting scuffle between police and media persons who were there to cover the presser.
According to the reports, Hurriyat (G) chairman Syed Ali Geelani, Hurriyat Conference (M) chairperson, Mirwaiz Umar Farooq and JKLF cheif, Yasin Malik were arrested on Thursday at Hyderpora ahead of their press conference at Hydepora Srinagar. The leaders were arrested along with their workers and activists and lodged in Police Station Humhama, however, they were later released.
A large posse of police personnel deployed outside Geelani's residence, stopped media persons from covering the press conference resulting scuffle between police and media persons.
A police officer told journalists, that no one would be allowed to cover the press conference.
Meanwhile Kashmir Editors Guild (KEG) has strongly condemned the police action against newsmen while covering the attempted joint press conference of Syed Ali Geelani, Mirwaiz Umer Farooq and Mohammad Yasin Malik at Hyderpora. While entire press corps that had assembled to cover the event were threatened and chased, at least two news photographers were beaten for no reason at all.
Farooq Javed Khan, the president of the Kashmir Press Photographers Association, who was personally present on the spot, said a police driver rushed his rakshak seemingly to hit the scribes. While they barely managed to save themselves, Mubashir Khan of Greater Kashmir had the vehicle crushing his foot.
AFP photographer Tawseef Mustafa was actually caught by an officer by his throat and attempted suffocating him. He even threatened him of dire consequences.
Discussion