India Today crew accuses Yasin Malik of Assaulting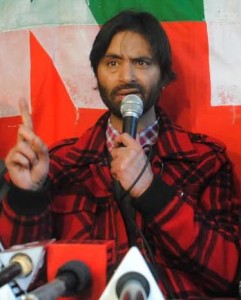 Srinagar, May 19 (Only Kashmir): New Delhi-based journalist Kamaljit Sandhu Friday morning accused JKLF chief Yasin Malik in assaulting and alleged that the latter snatched her phone and smashed it to smithereens. Malik while reacting to the allegation said Sandhu along with her crew barged into my bedroom on the pretext of interviewing me while I was sleeping.
Earlier on Tuesday, after India Today aired the special investigative report where Hurriyat G's Provincial President Nayeem Khan, Tehreek-E-Hurriyat's leader Gazi Javed Baba, and JKLF (R) chairman Farooq Ahmed Dar (Bitta Karate) was caught on camera admitting Pakistan is funding the violence in Kashmir Valley during a conversation with India Today reporters, who posed as potential funders.
India Today reporter Kamaljit Sandhu Friday alleged attacked by JKLF chief Yasin Malik. Sandhu had gone to take Yasin Malik's reaction on special investigative report – Hurriyat Truth Tapes.
"I was sleeping and all of a sudden, a female TV journalist from New Delhi barged into my bedroom on the pretext of interviewing me. She had lied to my sister that she had fixed an appointment with me. The fact is she never called for an appointment," Malik told a crowded press conference here.
"This gesture of the journalist triggered my anger and I snatched her phone. I ask the journalist community of India and J&K whether this is the way to interview a person," Malik said. "She then created a scene by crying and alleging that I manhandled her, which is very unfortunate."
Malik said he has filed a formal complaint against the reporter for "breaching the privacy of a person."
Malik challenged the Indian media to prove whether he has bought any property in the name of freedom struggle. "I have a two-room house in Maisuma, which belongs to my mother. I don't have any property anywhere," Malik said.
Police have filed a case under FIR number 30/2017 under section 448 RPC at Police Station Maisuma against the India Today reporter for forcibly entering the bedroom of JKLF chairman.
Discussion
One Response to "India Today crew accuses Yasin Malik of Assaulting"