J&K Police bearing brunt of Kashmir Conflict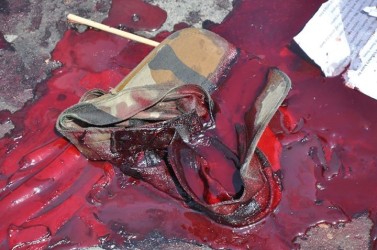 Srinagar, Feb 07 (KNB): Head constable Mushtaq Ahmad, who died on the spot, and constable Babar Ahmad succumbed to his injuries in the attack on SMHS hospital, when a jailed Pakistani militant shot his way out of a hospital in Srinagar on Tuesday, as he made his escape.
The Jammu and Kashmir Police has bore the huge brunt due to ongoing turmoil. This latest event is not the isolated case as series of killings of Jammu Kashmir Police have taken place in the recent times. Last summer too in a daring attack by militants Six policemen, including a Station House Officer of the Achabal police station, were killed when militants ambushed their vehicle at Thajiwara Achabal in south Kashmir's Anantnag district.



It is worth mentioning here that the Jammu and Kashmir government on Tuesday informed the Legislative Assembly during the ongoing session that 49 policemen were killed and 134 injured during the past two years in militancy related incidents across the state.
Pertinently, in a written reply to a joint query raised by National Conference MLAs Mian Altaf Ahmad and Devender Singh Rana, Chief Minister Mehbooba Mufti informed the House that 32 policemen were killed in 2017 while as 17 were killed in 2016.
During the reply it was stated that 84 policemen sustained injuries in 2017 while 50 were wounded in 2016.
With the overall situation in Kashmir sliding to worse the J&K Police also seem to be at the receiving end of this entire worrying situation. (KNB)
Discussion