JKLF rejects Pakistan PM remarks on 'Kashmir Independence'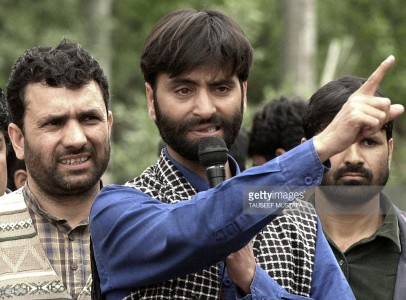 Srinagar, Nov 07 (Only Kashmir): Reacting over the statement of Pakistan Prime Minister Shahid Khaqan Abbasi wherein he rejected the idea of an "independent Kashmir", the Muhammad Yasin Malik led Jammu and Kashmir Liberation Front (JKLF) said instead of issuing statements that may create confusion, it is prudent to highlight the miseries of Kashmiris across the globe. The leader of JKLF (H) Javaid Ahmad Mir also termed the statement of Abbasi as 'disheartening.'
In a statement to Onlykashmir.in, the JKLF Chairman Muhammad Yasin Malik while reacting to a recent statement on independence of Kashmir by Pakistani prime minister Shahid Khanqan Abbasi said that from last 70 years Kashmiri people are rendering valuable sacrifices for their right of self determination and freedom and have sacrificed Lakhs of our young and old for achieving this sacred goal. He said any statement that may create confusion among the ranks and files of Kashmiris is not advisable and should be avoided in any case. Instead of issuing controversial statements, Pakistani leadership needs to enhance its efforts in highlighting the miseries of Kashmiri people and bring forth the gross human rights violations that are continuing in Jammu Kashmir.
Meanwhile, JKLF (H) Chairman Javaid Ahmad Mir said that the people of Kashmir from past seven decades have rendered sacrifices of life and property for the independence of Kashmir, adding, the bilateral dialogue process regarding the Kashmir issue between India and Pakistan till date have yield no results. He said JKLF is firm belief that the resolution of the Kashmir issue lies in the Independent Kashmir and we will continue to represent the people of Kashmir on these lines.
Javaid Mir said JKLF struggle which started in 1988 was only aimed to represent the sentiment of the people of Kashmir which is not less than the Freedom. He said it would be a welcome step if the premier has rejected the hollow slogans of the pro-Indian parties like Self Rule and Autonomy. Javaid Mir said people have given innumerous sacrifices for their political right and will continue till the Kashmiris are given their choice to decide their political future.
Discussion