Kashmir University film wins best Film Award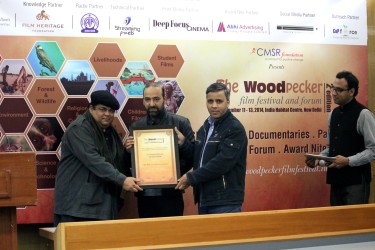 Srinagar, Dec 16 (Only Kashmir): EMMRC, University of Kashmir, film, "SECMOL –the School for Norphel", won the BEST film Award in 2nd Edition of
Woodpecker Film Festival and Forum. The festival was held at India Habitat Centre New Delhi from 11 to 13 December 2014.
The award carries Citation, Trophy and a Cash prize. Over hundred entries, from across the country, were received, 64 were short listed and screened during the three day film festival. SECMOL was declared the best film in education category.
Produced and directed by Dr. Shahid Rasool and Shafqat Habib, the film was shot at Ladakh. It revolves around a Nobra boy, Norphel, who had
failed in 10th grade. Norphel's story is that of courage and the right environment provided by his School, the SECMOL.
SECMOL, an alternate school at Leh, enrols only 10th grade failures. It shapes and boosts their personality besides helping them pass the exams.
The documentary film demonstrates how our educational system fails even the brightest and calls for relook on the curriculum, the course
material and the techniques of teaching and learning. At Norphel's school, the stress is more on learning then on scoring the marks.
The award was received by Dr. Shahid. Rasool and Shafqat Habib at a glittering award night ceremony at India Habitat Centre, New Delhi on Saturday, 13th December.
Vice Chancellor KU, Prof Khurshid Iqbal Andrabi, while congratulating team EMMRC termed it as, "a moment of pride for all at KU ". Dean.
Academic Affairs Prof MA Wani and Registrar KU Prof Zaffar A. Reshi congratulated EMMRC for bringing laurels to the institution.
EMMRC, it may be added, has produced over 1000 ETV programmes, documentaries during the last two decades and has won 9 National level awards. Pertinently film "Global Warming -the catastrophe in making" produced and directed by Dr Shahid and Shafqat had won Best film award in 2010.
Discussion