Kashmiri students forcibly evacuated in Chandigarh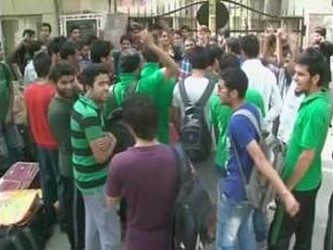 Bilal Bashir Bhat
Chandigarh, May 15 (Only Kashmir): Days after Union Home Minister Rajnath Singh appealed countrymen to treat Kashmiri youths as your own child, a group of Kashmiri students were Monday forcibly evacuated in Chandigarh city of Punjab. The students said a contingent of city police, with the reasons known to them only, raided the house where they were staying as paying guests and asked for 'weapons'.
Speaking to Onlykashmir.in the students (name with held) said we recently completed our MBA and are we were staying in satellite town Zirakpur area Chandigarh, Punjab for documentation and placement as well. They said since last two years we have been verified by police several times, however, today some 15 personnel of Punjab Police raided our room and quizzed where are weapons, what are you people planning.?
"After checking everything from bedroom to travel bags to Bed to dustbin to bathroom each and everything they warned our landlord that if anything happens in the particular jurisdiction he will be responsible. Our landlord came and said we have to vacate the room till evening, after a lot of requests he called the police but he again got same reply. Approximately 11 pm we took our belongings from that room and still we are searching for shelter."
Pertinently, during the past week, Kashmiri students have been taunted as "stone pelters" in Rajasthan and asked to leave Uttar Pradesh in hoardings put up in Meerut.
Recently, Home Minister Rajnath Singh appealed to everyone to consider the Kashmiri youths as their own brethren and treat them well.
FILE PHOTO
Discussion
One Response to "Kashmiri students forcibly evacuated in Chandigarh"