Kulgam youth succumbs to bullet injuries, shutdown in Ganderbal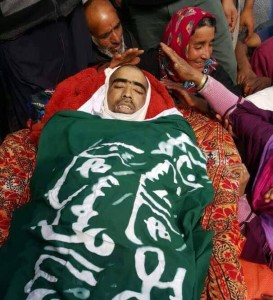 Srinagar, April 19 (Only Kashmir): A youth who was injured in firing by government forces on April 9, on the polling day parliamentary elections in Srinagar constituency, succumbed to his injuries at Soura Institute of Medical Sciences in Srinagar.
Muzaffar Ahmad Mir was a resident of Zangalpora in Kulgam district. He was a labourer by profesison. Pertinently, on the same day in Baroosa, another youth identified as Omar Farooq, 22, a trucker was injured.
The death of the youth triggered spontaneous shutdown in Baroosa and adjoining areas in Ganderbal district. The shopkeepers downed their shutters after the news of Muzaffar Ahmad Mir's death spread in the area. The youth appeared in the main chowk and pelted stones on the forces' vehicles.
Meanwhile a spontaneous shutdown was observed in Baroosa and its adjoining areas in central Kashmir's Ganderbal district on Wednesday after the news of death of a Kulgam youth spread in the area.
Discussion