KUSU calls for resumption of Classes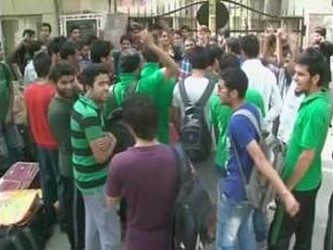 Srinagar, April 20 (Only Kashmir): The Kashmir University Students Union (KUSU) Thursday calls upon the student community to resume their classes after what they say a successful display of resistance, unity and valour.
The protests in solidarity with the students assaulted by forces at Pulwama Degree College was not only exemplary but a historic message put across the globe that the struggle of right to self-determination is deep rooted in the conscience of every man, woman and youth of Jammu and Kashmir, the KUSU student said in a statement.
It should be kept in mind that while resuming class work the students should make resistance against Indian occupation a way of life and raise voice against the oppression whenever needed or necessary.
"The treachery of the oppressive state mechanism have already begun its co-optive measures to subvert our just struggle for freedom from forcible occupation of India by creating various youth and students organisations linked directly to pro-India political parties or in the form of shadowy extensions, with full support and patronage from occupational machinery. The students should be vigilant and wary of such divisive attempts by the state so that they do not let lose their deceitfulness over the campus activities."
KUSU also cautions students to be wary against any attempts of fund-raising in the name of students injured since Monday.
Discussion