Meet Roshni Misbah, challenging gender stereotype via bike riding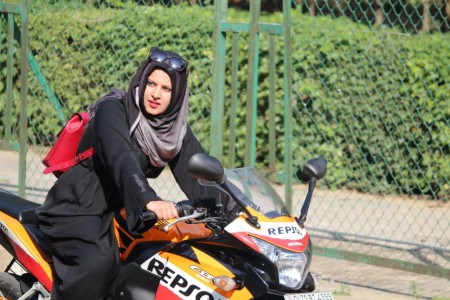 Only Kashmir | Aqib Rangreze | 26 March 2017
Undoubtedly, we are inhabitants of a society where most of the families are conservative and prefer sons over their daughters. They believe that only sons can bring home laurels and girls are meant to just learn the daily family chaos and to get married at a tender age.
In Kashmir too, if you are a girl, you have to follow certain rules and regulations set by society so that family's honor doesn't get maligned. The situation gets more complicated when you are from a conservative Muslim family. But Delhi's Roshni Misbah also known as 'Hijabi Biker' breaks all these stereotypes and rides past those with a message that daughters too can make their parents feel proud in different aspects of life. Roshni, who is trending on social media these days, while taking to this correspondent, says that she doesn't break rules but she loves to break every single stereotype.
Roshni has a special message for Kashmiri girls as well and urges them to continue pursuing their dreams. "You can follow your dreams, your culture and your faith at the same time and fulfill your passions" she reverberated adding "parents must support their children as their support will lead them to success someday, Inshallah".