Mehbooba Mufti Has Every Reason To Go For Umrah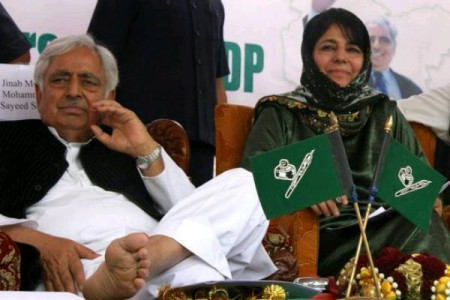 Only Kashmir | Bilal Bashir Bhat | 20 Feb 2017
Jammu and Kashmir Chief Minister Mehbooba Mufti is going for Umrah to Saudi Arabia on February 23 and is scheduled to return back on 2nd March, the proposed activity is out of the political box and is very personal related to a person's belief, but she has every reason to go for Umrah.
Ever since the late Mufti Muhammad Sayeed forged alliance with BJP to form coalition government in politically much sensitive state Jammu Kashmir, there is always a new era of political uncertainty.
The nature, however, brought 'unholy' alliance to conclusion following the death of Mufti. But after three months of history making process amid Governor's rule, PDP princess Mehbooba Mufti sworn in as first lady Chief Minister of the state thus forming the same alliance.
Right from the day of her coronation, quinquagenarian Mehbooba Mufti faced tough times several occasions on political fronts, the recent 2016 uprising in Kashmir was amongst, during which the situation forced her to exhibit hardliner behavior, unlike she is known.
Forming alliance costs Mehbooba very much as one of the founding members of PDP and a very close confident of late Mufti, MP Tariq Hameed Karra parted ways from PDP camp and put the whole leadership into dilemma in terms of choosing the new face for Srinagar parliamentary elections.
God knows what stand has adopted by her alliance partner BJP nowadays, but factually they leave no stone unturned to push Mehbooba into the controversies.
Controversies sparked by Jammu province shareholders in 'unholy' alliance like Abrogation of Article 370, Pandit Colonies, Sanik Colonies, Industrial policy, Domicile certificates to Pakistan refugees, even the reshuffle in civil administration on many occasions become Mehbooba's reason to lose sleep.
The recent reshuffle in state cabinet also sparked a controversy after PDP's two main players resigned over the portfolio allocation. The every decision of Mehbooba ji alias Baji is causing trouble for her, the selection of two new faces for forthcoming by poll parliamentary elections would be a challenge for her and in such circumstances she has every reason to go for Umrah.
Bilal Bashir Bhat is a Kashmir based freelance Journalist and can be read at: bilalbashirbhat@gmail.com
Discussion