Mirwaiz condemns harassment of Shahid ul Islam by NIA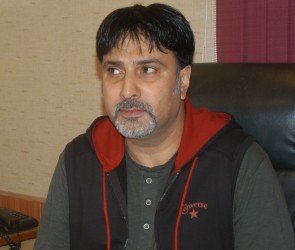 Srinagar, Jun 17 (Only Kashmir): Hurriyat (M) Chiarman Mirwaiz Umar Farooq has strongly condemned the targeting and summoning to Delhi of his close aide Shahid ul Islam by Nation Investigating Agency (NIA), adding, the latter was persecuted for his association with me and people's political struggle in J&K.
In a statement to Onlykashmir.in Mirwaiz said Shahid is being persecuted for his association with me and with the people's political struggle in J&K. He said such intimidation and coercion to overwhelm him is unethical and against international law.

Mirwaiz further said Shahid is an honest and dedicated political activist and a thorough gentleman and the people of Kashmir stand with him in this hour of trial that he is being subject to for his political ideology and his association with me and the people's movement. Mirwaiz said people of Kashmir condemn and protest these malicious ploys of those who having lost on the political front from the people of Kashmir are now desperately trying to malign the movement and intimidate and witch hunt those associated with it. Mirwaiz also condemned the harassment caused to. Altaf Shah who is also being subject to questioning by the Indian agency.
Mirwaiz said such tactics will pressurize neither me nor my party members from pursuing our principled stand of representing the political aspirations and will of the struggling people of Jammu & Kashmir.

Mirwaiz said my family and those associated with my party and the movement have seen umpteen hardships and challenges from the state for the past 70 years but neither has it in the past nor will it in the future unnerve us or deter us from our path of righteousness and justice for the suffering but resilient people of Kashmir.
Discussion