News in Feature
Mirwaiz Umar Farooq: An Inspiration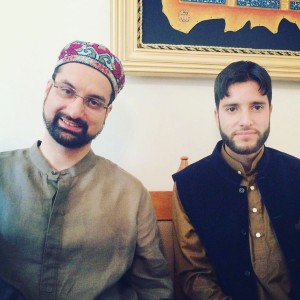 Only Kashmir | Owais Bhat | 23 March 2017
On this day 23 March, 1973 the soil of Kashmir gave birth to a stalwart leader & spiritual person Mirwaiz Umar Farooq. He went to the Burn Hall School where he studied upto 10th Standard. As all students were going to school in bus he also used to take same bus like other students. Mirwaiz had interest in Computers & wanted to become Software Engineer but his dream were shattered after the assassination of his father Mirwaiz Moulvi Farooq by unidentified gunman at his Nigeen Residence.
At the age of 17 he became the 14th Mirwaiz (Mir means Head & Waiz means Priest) of Jammu & Kashmir & Chairman Of Awami Action Committee. He continued to carry the mission of his ancestors forward for "Right To Self Determination ". At the age of 19 He United 26 Pro Freedom Parties under one Flag & founded the Hurriyat (Freedom) Conference to raise voice for the cause of Kashmir & he was elected as Chairman Of All Parties Hurriyat Conference.
In 2010 he held Phd in Islamic Studies from Kashmir University. He leads the nation at every front whether In Religious, Social, & Political activities.
After the devastating floods in the year 2014 hit Kashmir valley as a result of which thousands homes got destroyed. At that testing times Mirwaiz had left no stone unturned in reaching out to the victims. He set up relief and rehabilitation camp for those victims and on Eid Ul Azha day at Historic Eid Gah as he announced Akh Akis Initiative. He built the house for the flood victims under the "Akh Akis Initiative" (Darul Khair) who lost their homes due to damaging floods.
Mirwaiz not only raised Kashmir Dispute at National level but he also highlighted it on International level. He awakened the International Community about the atrocities by India in Kashmir since 1947.
From time to time Mirwaiz Umar went to India,Pakistan & other Foreign Countries to raise voice of oppressed Kashmiris. He wants peaceful resolution of Kashmir Issue & acted as a bridge between India & Pakistan.In OIC, EU Parliament & in United Nations he delivered speech about the Human Rights Violation by India in Kashmir. Since 2012 his passport has been impounded thus preventing him to attend the International events regarding Kashmir.
On Eid Ul Fitr day 11 September 2010 he created the history by announcing March to Lal Chowk from Eid Gah Srinagar. Lacs of people participated in procession which were lead by him. He addressed lacs of people at Clock Tower (Ghanta Ghar) Lal Chowk & raised the new slogan "Kashmir Ka Tarjuman Nawajawan Nawjawan" "The Interpreter Of Kashmir Are Youths" which were responded by thousands of energetic Youths.
For Past three consecutive years Mirwaiz Umar Farooq have been listed as one of The 500 Most Influential Muslims in World by the Royal Islamic Strategic Studies Centre, Jordan. He was also shown among the Asian Heroes by the Times magazine.
From the Pious Pulpit of Jamia Masjid Mirwaiz Umar Farooq not only spread the teachings of Islam but also raises the voice for justice and fulfilment of peoples political will and aspirations.
During 2016 Kashmir unrest Mirwaiz Umar Farooq for the first time was kept under solitary confinement at Sub Jail Chesma Shahi for two months this restricting his Religious, Political, & Social activities. He is in favour of Unity among all Pro Freedom camps which provided the platform for Uniting all top pro freedom leaders together.
In my opinion Mirwaiz Umar Farooq stands tall among all leaders for his enormous efforts in the field of Religious, Social & Political & bringing all the different sects together in the name of Islam.
Discussion