Modi government carving first ever Kashmir Policy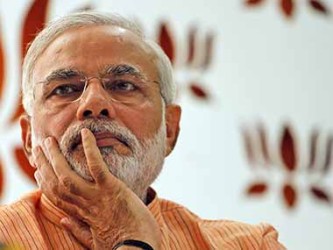 Bilal Bashir Bhat
New Delhi, April 16 (Only Kashmir): With the rising violence, the non-stop cycle of civilian killings and most importantly the recent lowest ever turnout, the Narandra Modi led ruling dispensation is likely to unveil a Kashmir policy in coming days aimed to bring what they say peace in bleeding Kashmir. The first ever policy would lay an idea of the framework of Government of India on how to deal with Kashmir issue.
Highly placed sources told Onlykashmir.in that Ministry of Home Affairs is drafting a policy which will engage all the stake holders in a dialogue process. The sources said in this regard several meeting/conferences were held in New Delhi recently in which a number of prominent socio-political personalities including separatist leaders put their suggestions forward for an engagement process of dialogue.
Sources said to Onlykashmir.in that the recent lowest ever turnout in the election has shocked the think tanks in New Delhi who implored the Modi-led government to break the ice over the prevailing situation in Kashmir. The sources added that PDP-BJP government's failure on all fronts including developmental and handling the situation has become a concern for the observers in New Delhi.
The voice from several quarters for imposing Governor's rule is Jammu and Kashmir has forced to the regime to try a different approach before it is too late. The sources added to Onlykashmir.in that PDP is gearing up to call for the repeal of AFSPA.
"The Modi government evidently wants a new approach and has settled on a policy that combines (a) harsh crackdowns on agitating youth (b) initiatives that undermine mainstream parties, notwithstanding the PDP-BJP alliance, and (c) taking Kashmir out of the India-Pakistan equation. The last two elements have been achieved to a significant extent; what remains is the act of disciplining Kashmir, which we are likely to see more of in times ahead," the sources added.
Pertinently, the cycle of violence is being reported from nook and corner of the Kashmir Valley, the recent killing and protests in Central Kashmir's Budgam district have surprised the security and Intelligence agencies because of its history of remaining peaceful even in the gory years of 2008, 2010 and 2016.
On the other hand, the stone pelting incidents at encounter sites aimed to help militants to escape is resulting in the killing of civilians is landing Mehbooba Mufti led government deeper in helplessness.
Experts state that this Kashmir policy would lay an idea of the framework of Government of India on how to deal with Kashmir issue. (END)
Discussion