MP tribals and Jan Sena offer to take on Kashmir stone pelters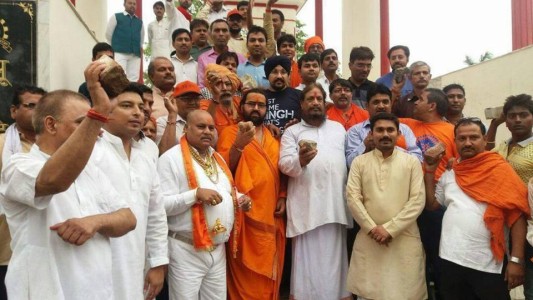 New Delhi, April (Only Kashmir): A group of tribals in Madhya Pradesh have written to the Prime Minister, offering to take on "stone pelting" protesters in Kashmir with their traditional weapon, gofan (slingshot) while as 13,000 members of Kanpur based Jan Sangh imparted training to tackle the stone throwing youths in Kashmir. (In the Picture Jan Sangh members chanting slogans against Kashmiri stone pelters) 

According to the reports more than 100 Bhil youth are now honing their skills with the gofan at Hatipao hills, situated on the outskirts of Jhabua town of in Madhya Pradesh and want the government to start a gofan battalion and send them to Kashmir.
"We will give a befitting reply to them – stone for stone – and send them packing" said Bhanu Bhuria, one of the youths using the Gofan, confidently. They also want the army to raise a "gofan battalion".

Meanwhile a public army has been formed to fight stone-throwers and elements attacking jawans of Indian army and para-military forces in strife torn Kashmir valley.
Balyogi Arun Puri Chaitanya Maharaj, who has formed the Jan Sena, said 13,000 people had registered themselves and were ready to give a befitting reply to the stone throwers.
"I appeal to Prime Minister Narendra Modi to permit the Sena to go to Kashmir and teach the separatist forces there a lesson," he said.
Arun Puri is head priest of the Siddhnath temple, a revered place in Kanpur's Jajmau locality. He is meeting the saints in and around Kanpur with his plan for the valley. He held a meeting of saints in Jajmau in which he divulged that 100 youths of each civic ward have enrolled for Jan Sena in Kanpur.
There are 114 civic wards under the Kanpur Municipal Corporation. "They are being imparted training to tackle the wayward youths in Kashmir," he said.
Discussion
One Response to "MP tribals and Jan Sena offer to take on Kashmir stone pelters"