Nominees for Youth Icon Award announced, Bilal Bashir Bhat amongst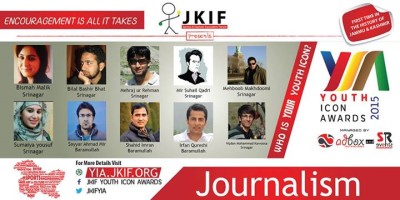 Only Kashmir News Desk
Srinagar, June 07 (Only Kashmir): Much awaited the list of the Jammu and Kashmir Youth Icon Awards Nominees was released on Sunday late night, under which some 75 youth have been nominated for the prestigious award in 10 categories. Bilal Bashir Bhat, Chief Editor Only Kashmir has also been nominated for the Youth Icon Awards among 10 young journalists in Journalism category. CEO of the event Er Idress ul Haq has also been nominated in the Innovation Category. Rameez Makhdoomi, Associate Editor Only Kashmir is listed under Social Work Category for taking part in betterment in society via his writings and activism especially on humanity issues.
Speaking to Only Kashmir, Er Idress ul Haq said that all the nominees have been selected after a decision of panel of experts in every of the respective category.
"Besides the first of its kind event, the people of the state can experience on line voting for the first time till 13th June Saturday 10.00am."
"This event is a cause based event, whole idea behind organizing this event is to identify and felicitate our unsung young heroes in the age group of 18- 30 , whose efforts have had an overwhelming effect on the youth and about promoting tourism of Jammu and Kashmir. We are expecting Chief Minister, Cabinet ministers and Bollywood stars for this event as the guests," Idress added.
The people all over the globe can favour a particular nominee via their vote by visiting here: http://yia.jkif.org/
Besides, Journalism the other nine categories of event are: Entrepreneurship, Engineering, Sports, Social Work, Art and Culture, Medical, Innovations, Law and Education.
The event is proposed to be held on 16th June Tuesday SKICC Srinagar.
Only Kashmir is the media partner of the event.
Discussion