News in Feature,Spotlight,State
Onlykashmir.in observes 8th foundation day, pledges to shape opinions
Srinagar, May 07 (Only Kashmir): A simple but an impressive function was Sunday held at Stream Restaurant, Srinagar in which people from different shades of life participated to commemorate the 8th foundation day of Jammu and Kashmir's one of the leading news portal Onlykashmir.in.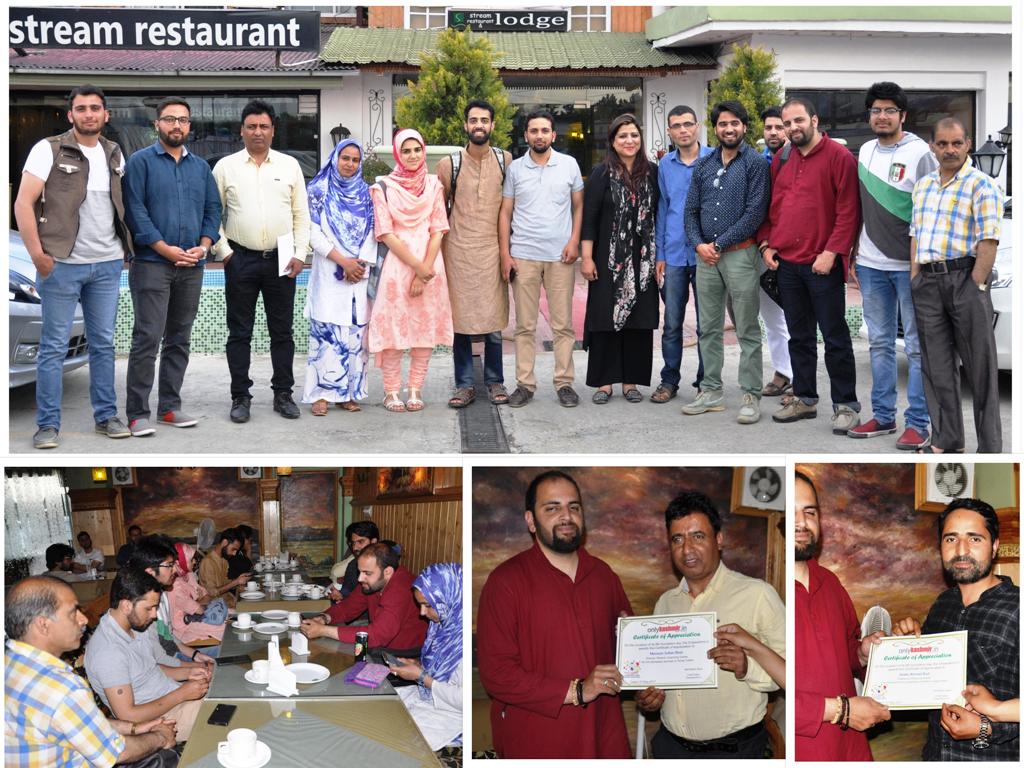 The participants on the occasion hailed team Onlykashmir.in especially its Chief Editor Bilal Bashir Bhat for upholding the ethics of journalism despite several odds and hurdles. They said since its existence eight years back, the Onlykashmir.in via unbiased approach has emerged as the most effective avenue for spreading awareness and acceptance and also in reporting on the issues taking place in Kashmir valley. The participants lauded the efforts of Onlykashmir.in in adopting impartial and strong caliber while reporting news and analysis.
In his address, Bilal Bashir Bhat said so far the eight year journey has been on holistic paradigm a complete package of success with immense positive participation of readers, adding, the Onlykashmir.in since its inception stands firm on its Moto of never compromising on conveying the truth to its readership without any prejudice. We know no rest in toiling to resonate the concerns of our society and shaping the opinions of the masses thereof.
On the occasion, educationalist Manzoor Sultan and photo journalist Shabir Ahmad Bud were felicitated.
Meanwhile Hurriyat Conference JK leaders Shabir Ahmad Dar, Imtiyaz Ahmad Reshi, Muhammad Iqbal Mir and Gh Nabi War in their joint statement has felicitated the editorial team of Jammu and Kashmir's one of the leading news portal Onlykashmir.in for completing eight years of excellence in journalism. The leaders while felicitating the Onlykashmir.in Chief Editor and dynamic young journalist of Kashmir Mr. Bilal Bashir Bhat said the news portal has always worked for the marginalized sections of the society and unbiased, adding, they have always indulged in factual reporting.
Meanwhile Muslim Conference Working President Jahangir Gani Bhat has felicitated the Jammu and Kashmir's one of the leading news portal Onlykashmir.in for completing eight years in excellence, he said and hoped that the news portal will continue conveying the truth to its readership without any prejudice. (OK)
Discussion