News in Spotlight,World Watch
Pir Alauddin Siddiqui passed away for heavenly abode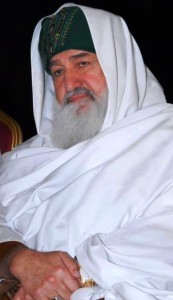 London, Feb 03 (Only Kashmir): Prominent Islamic scholar and spiritual leader Pir Alauddin Siddiqui Nashbandi passed away here on Friday. He was born in Kashmir on 1st January 1936. He is known for establishing Mosques in London, Birmingham, Peterborough and various other cities in the country, besides launching 'Noor TV' to counter the biased views of the mainstream media regarding Islam.
Born in Kashmir on 1st January 1936, Pir Alauddin Siddiqui Nashbandi grew up in the blessed presence of his father & spiritual guide, thus obtaining spiritual blessing and grace throughout her childhood, and from their years of service and devotion at the great centre of Nerian Sharif.
In 2004, Pir Muhammad Alauddin Siddiqui Sahib founded Al-Ehya Trust, now known as Mohiuddin Trust, which is a charity focusing on global issues and the betterment of deprived communities, mainly focusing on the Azad Kashmir region.
The first major project of the Trust was Mohiuddin Islamic University, which is today one of the best educational institutes in the whole of Azad Jammu Kashmir.
In September, 2014 Siddiqui arrived in Kashmir to address a series of gatherings, however, due to floods he left the Valley without any public appearance.
Several socio-political personalities and organizations including Mirwaiz Umar Farooq (Kashmir Chief Cleric), Farooq Renzu Shah (Chairman Kashmir Society), Syed Salim Geelani (Chairman Peoples Party), Ghulaman e Siddiqui Akbar JK and others have expressed grief and sorrow over the sad demise of Pir Alauddin Siddiqui.
Discussion
One Response to "Pir Alauddin Siddiqui passed away for heavenly abode"