Power Development Department Hooliganism in Open at Munawarabad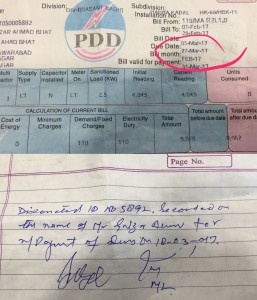 Srinagar, Mar 19 (Only Kashmir): In a blatant violation of norms and rules, the Power Development Department (PDD) hooliganism is on full spree as lineman deputed in the Munawarabad area visited leading advertising and printing agency CP Advertisers and cut off the power supply line before the last date of submission of bill.
CEO of CP Advertisers Mushtaq Ahmad while talking to Onlykashmir.in said, it was surprising that a PDD lineman came to our office and snapped power connection citing reasons 'non payment of bill' adding, he was told by office bearers that last date for depositing the bill is Mar 27 but he paid no heed and cutoff power supply to my office situated in Munawarabad Srinagar," he said.
"On being asked to provide written notice , the PDD lineman failed to produce same and in criminal fashion told he will give same on plain paper."
The aggrieved have called on state top brass to take action against such corrupt rank and file of PDD.
Pertinently, the hooliganism of this nature is being displayed by the PDD officials against those honest voices who do not pay ransom to them.
Discussion