Power Thirst: 18 Congress MLAs in Manipur likely to join BJP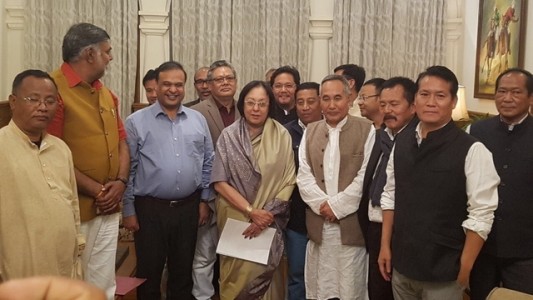 Only Kashmir News Desk
Imphal, Mar 12 (Only Kashmir): Switching ideologies to grab the power is not new in politics, so are the reports emerging from Manipur-northeastern state of India where 18 Congress MLAs are likely to join BJP cadre just to remain in power.
BJP General Secretary, Ram Madhav claimed in a press conference that the party will have support from smaller parties to form the next government in Manipur. According to sources, BJP MLA Nongthombam Biren Singh is the frontrunner to become the next Chief Minister of Manipur.
Earlier Congress MLA Shyam Kumar went with BJP leaders to meet Governor Najma Heptullah. The BJP has won an impressive 21 out of the 60 seats and also has the support of regional parties like NPP, NPF and LJP. The lone independent MLA Asad Ullah from Jiribum, is also supporting the BJP. If 18 Congress MLAs actually defect to BJP, the party will end up with 49 MLAs, more than the required 31 to form the government.
Earlier, Congress spokesperson Randeep Surjewala alleged that Ashab Uddin had been abducted by the BJP.
As the news came to light J&K former Chief Minister Omar Abdullah termed the proposed decition of Congress MLAs as "Shame," In his latest Tweet his said, "That's not cricket!!! You can't claim to be the party with the difference & then force your way to power by engineering defections. #shame"
In a tightly-fought electoral battle, the BJP won 21 seats, while the Congress retained 28 seats of the total 60 Assembly seats. The deciders in this case were the regional parties.
Discussion