News in Columns Corner
Rate List of Kashmir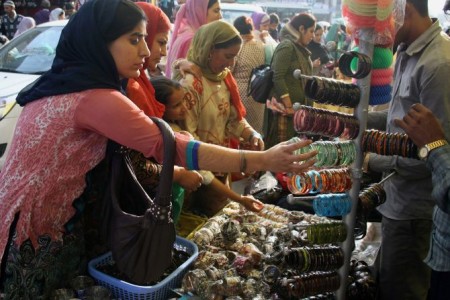 Only Kashmir | Sajad Ahmad Rather | 26 Jan 2017
We often tend to get surprised with the price of a product in Kashmir, be it retailer or barber, cloth merchant or stitching shop (tailor), bakery shop or tea stalls, electronic stores or repairing shops, hospitals or medical stores, hotels or travelers, automobile show or local tyre puncture shop have their own rates which do not fit any standard in our society. In today's world, every business transaction is customer centered while in Kashmir the scenario is same by other means, while in business product has a price, while in Kashmir product is as valuable as if it's only and only manufactured by that particular shopkeeper only having patented the manufacturing rights. We all have got clean bowled after hitting the bouncer directly head & then to heart leaving the customer mum with no other choice to leave the shop and for this also the seller will loudly shout "gaamuk gujr" demag chi theek" "tchaar wath suli gaer" etc. It's seller who discourages the buyer and then barks & curses till he finds new customer. To be honest seller has no interest in creating customer base or maintain relation keeping a few out of chunk, rather most sellers look for 'bakra' not buyers.
The main cause for failure or success of business is the mindset between 'bakra' and buyer, not the political environment of our state most of us blame for. Few days back with a family member I went for shopping to a readymade garment shop where we selected a kurta with some kind of plastic design sticked with gum and as I asked whether it will stick to it or not for some with a great promise he said it will not come out, finally clash of price started with a smiling face he slapped the price tag of 1300/-for a ladies kurta which would hardly cost 300-400, every husband is in dilema when his wife selects a particular item and his tongue gets stuck in his mouth while knowing the price. Finally I asked for some discount, after doing calculations he said 1125/- is the Final price, my wife without other word said 800/- and he said how come this is possible and we started leaving the shop and after walking few yards he shouted will you pay 1000 we didn't bother to respond and my wife said I said 800/- and I think it's costly meanwhile the shopkeeper shouted come and take, again dilema costly or wish of wife that too on Eid, I thought doesn't matter let's buy it and we took the kurta along and when I asked for bill he said this is just 10 days old shop and don't have any bill book yet. Finally I left the shop and I moved on for further shopping, it took around 2 hours for us to buy different item and the moment we thought of leaving for home my wife said I want to have another look at kurta whether it was fair enough to buy at 800 or its was costly, I said let's move on 800 is not a big deal how much shopkeeper would be earning out of it 50-80 Rs maximum. Suddenly she noticed that plastic design peeling off and she said we'll return back this kurta because he assured us and just in 2 hours it's peeling off and what will our parents say at home so we went back to the shop keeper and said dear this is what you assured us but this is not the case look this is peeling of, he started refusing as if God has gifted eyes him only. Now he's saying use it if it plastic design peels off I will be solely responsible and my simple and short answer was put this statement on paper then I don't have any problem at all, he refused and said why you bought it earlier we said business is more of a trust you assured us it'll not peel of so we bought it and you've deceived us so we are in no mood to buy it, so he said sorry we don't have any refund policy, you can exchange it and my wife said no issue show us some dressing material we'll take that, now he's not looking at our requirement rather gave us a suit which we both didn't like and said this will cost you 1200 so you have to pay 400 more, earlier the cost of kurta which we assumed and the dress he gave us now is what I have bought few days back for just 450 from another shop in the same market, I was stunned and lost in thoughts I said dear this is what I have bought below 500 and you're asking for above 1000, please refund the money I will buy the same dress from the same shop at just 450, now he started speaking in English to beat around bush as if he only knows English, I said I am a sales person myself but I don't sell like this, I gave him few choices like, give in written the consent of receiving kurta back if plastic design peels off, why can't you refund the amount if I have bought the product which I found faulted and what sort of law are you following in which it's mentioned customer cannot ask for refund if he's doesn't find product satisfactory. And have you informed your customer we have such and such terms for exchange or refund. Now this worked as petrol to already heated conversation and few more shopkeepers gathered and few customers also, finally after long hot debate he was convinced by shopkeepers to refund, and at last while I was leaving he said a good point in which he defined himself 'next time don't trust & check product carefully and I also said him sales tip 'learn to speak politely and next time aware customer about terms & conditions carefully. And my words to my wife were he'll maximum he can sustain year or two in the market, it's like buying an ointment for wound and cost whole skin. Such things use to happen in monopoly which does not exist but with the shopkeepers behaviour one can experience so. It was a real example I dealt with before a week and same kind of experience from a bakery shop was also in limelight few months back where the customer had asked for 5 bakir-khani and the total cost for 5 bakir-khani's was tagged above 500 rupees which could have been normally ranged between 50-60 rupees. One can feel sorry at such cheap actions of our business owners and they never know for an instance customer is at receiving end but for whole life that customer never visit that shop not only this in his entire life he'll narrate the story to people as and when asks for suggestions, view etc. Like this also happened with me at an electronic store where by I bought a cord and asked for checking it once whether it'll work or not and he shouted and said get lost we don't sell such cords. Such rude behavior of business hurts customer 5% only and 95% to business unfortunately which these shopkeepers don't understand, a customer is in. Market to buy something, one should be lucky enough to have a customer at his shop and should be dealt with utmost care so that it turns out to be a lifetime investment for business, In a speech in South Africa in 1890 Mahatma Gandhi said these beautiful lines and I believe for the success of business this should be daily prayer:
"A customer is the most important visitor on our premises. He is not dependent on us. We are dependent on him. He is not an interruption of our work. He is the purpose of it. He is not an outsider of our business. He is part of it. We are not doing him a favour by serving him. He is doing us a favour by giving us the opportunity to do so."
Anyone will feel disappointed if no customer visits his premises, there are plenty of businesses who don't have customers or customers don't have trust on those businesses and they get closed. it's worth noting that it's better to sell a product with 2% profit and making 10 sales a day rather selling with 5% profit margin and making only 2 sales a day.
Discussion