SKIMS administration disallows staff to participate in AAC organized Blood Camp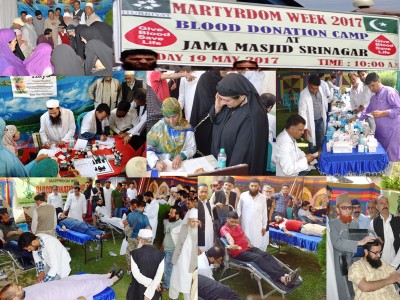 Bilal Bashir Bhat

Srinagar, May 19 (Only Kashmir): What can be a more brazen show of inhumanity that Kashmir's largest medical institute Sher-e- Kashmir Institute of Medical Sciences (SKIMS) disallowing its medical and paramedical staff to participate in a highly noble cause like blood donation camp. According to the sources the for the first time in the past 27 years, doctors and paramedical staff from SKIMS Soura were not allowed by the administration to participate in a blood donation camp organized by Jammu and Kashmir Awami Action Committee (AAC).
The Jammu and Kashmir Awami Action Committee which is conducting blood camps annually from the last 27 years to commemorate the anniversary of its founder Mirwaiz Molvi Farooq in a statement to Onlykashmir.in Friday expressed shock and surprise and disappointment over disallowing doctors and paramedical staff from SKIMS administration who had been duly requested through a letter to the Director to send a medical team, to participate in this purely social and humanitarian initiative.
"Hundreds of patients waited for doctors from the institute to check on them but were let down as doctors were not allowed to attend the camp," the statement reads.
Advocate Shahid-ul-Islam a senior member of AAC and Mirwaiz's close aide while speaking to Onlykashmir.in said,"I had called SKIMS Director Prof. A. G. Ahangar personally and he assured of sending team besides a letter was delivered to concerned administration of SKIMS."
Head of the department of blood Transfusion and Immunohematology Dr. M. Aleem Jan denied to talk when contacted by Onlykashmir.in, however, one of the staffers at SKIMS Blood Bank revealed that no such communication was made by the Director's office in this regard.
Meanwhile, a large number of people including youth and women donated their blood in the camp organized in the premises of Jamia Masjid where free medicines were also distributed among the patients. AAC and chairman of his Hurriyat faction Mirwaiz Umar Farooq, couldn't participate in the camp as authorities had placed him under house confinement. Advocate Shahid-ul-Islam who is a regular blood donor was also prevented from participating by authorities by placing him under house confinement. AAC leaders Sufi Mushtaq Ahmad and GN Zaki, Advocate Yasir Rouf Dalal, however, managed to attend the camp.
A free medical camp was also organized on the occasion in which prominent doctors and paramedics participated. Doctors from Unani branch of medicine, which included the entire team of doctors and paramedics from Haya Hospital Batamaloo headed by Dr. Feroz Naqashbandi attended the camp. (OK)
Discussion