Srinagar gets first of its kind multi level parking facility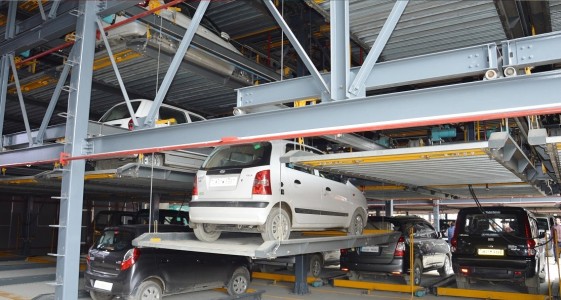 Srinagar, May 17 (Only Kashmir): Spread over an area of 1545 square metres in the city's most busy commercial place, first of its kind the multi level parking facility was Wednesday inaugurated which would provide parking to 288 vehicles.
This car parking facility would be first of its kind in the State as most of the operations done during car parking would be automatic, including collection of fee and receipts. The drivers will have to just place their vehicles over the automated pellet and it would be automatically placed in the available vacant slot. The vehicle would similarly be retrieved back in the same manner on the automated pellet. The whole process would take around two minutes and would be undertaken with the help of an imported Logic Control Unit.
The parking has been developed at a cost of Rs. 27.15 crore and would be. The parking facility comprises four bays with each having a parking space for 72 vehicles, besides a commercial complex, office and public convenience.
The facility has been built by Economic Reconstruction Agency under the Asian development Bank funding and the project has been completed in two years.
Chief Minister, Mehbooba Mufti inaugurated a semi mechanized car parking facility at the old KMD stand on the M. A. Road here today.
Discussion