News in Behind The News,Spotlight
Water Logging & Bad Roads a public concern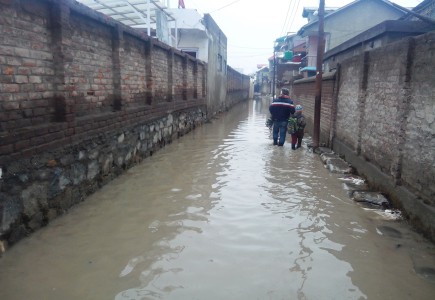 Only Kashmir |Mir Irfan | 30 Jan 2017
Since 1947, in pretext of the development the people of J&K are becoming fool at the hands of ruling regime. The successive Governments have been asking people to vote for Bijli, Pani and Sadak and till date, the condition of the Srinagar Roads is worst than any other city of India. Since roads indirectly contribute to the economic growth of the country it is extremely essential that the roads are well laid out and strong. Jammu & Kashmir is home to several bad roads be it the cities or the different tehsils/blocks/villages.
Bad road conditions are nothing new to Kashmir and the problem is being addressed since the last 70 years. People pay road tax and other fees of vehicles but in return they get such state of bad roads to ply on.
Now let's come to the drainage system of Srinagar. The floods of Sep. 2014 brought silt with it. It gave the state government an excuse and till today even in the hub of Srinagar flood channels are choked. The Government over the years has failed to pursue the case of construction of proper drainage system and of flood channel.
It is important to mention here that in Srinagar after a few inches of snowfall, the most of the areas are waterlogged. The harmful effect of water logging is the other concern. Rise of water through capillary in the buildings, causes dampness and therefore causes diseases. This also causes peeling off plasters and appearance of salt patched on the walls of the buildings. It is very unhygienic for kids to travel or walk in the water because the water carries so much dirt and wastes. The people might get different infections and suffer from diseases.
In some areas like Muslimabad, Tangpora Bypass lane No 3 is still water logged people have to use Long Rubber boot. When OnlyKashmir.in team visited the area we got disheartened when we saw a man carrying child on shoulder after coming from tuition. The water logging areas are becoming problem for children who go to tuition.
Maybe the Chief Minister Mehbooba Mufti has forgotten to pass orders for immediate dewatering of water-logged roads and residential areas, let us remind her that Srinagar City and towns of Kashmir are waterlogged. (OK)
Discussion
One Response to "Water Logging & Bad Roads a public concern"