Would follow Vajpayee's policy in Kashmir: Modi to Mehbooba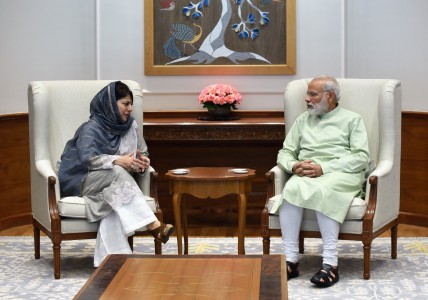 New Delhi, April 24 (Only Kashmir): Amid call of imposition of Governor's rule in Jammu and Kashmir from several quarters, Chief Minister Mehbooba Mufti who this morning met Prime Minister Narendra Modi and pressed for a dialogue with separatists said that during the meeting Modi repeatedly said he would follow Vajpayee ji's footsteps of reconciliation in Kashmir.
"Modi ji has repeatedly said he would follow Vajpayee ji's footsteps, whose policy is of reconciliation not confrontation," Mufti told media persons after the meeting, referring to the former PM's Kashmir peace push. She told the Prime Minister that the Centre should seriously think about the welfare of the state.
Mufti, who is under pressure in the face of fresh street protests in Kashmir, briefed Modi on the prevailing situation and the way forward. "There is no option but to talk, but it can't happen amid stone-throwing, bullets," said the chief minister whose Peoples Democratic Party is running the government in the border state with Modi's BJP.
Pertinently, violence increased in the state in the run-up to the election to Srinagar parliamentary seat on April 9. Eight people were killed on the voting day, with only seven per cent of the electorate casting their vote.
Opposition National Conference and Congress is demanding imposition of governor's rule, alleging the state government has failed to ensure peace in the state.
Discussion