Yogi Adityanath is new Chief Minister of Uttar Pradesh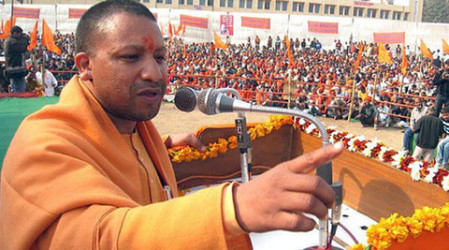 Lucknow, Mar 18 (Only Kashmir): The suspense on who will lead India's largest state got over today after the BJP picked Yogi Adityanath as the Uttar Pradesh chief minister.
The decision was taken after a meeting at 4 PM at Lok Bhawan that saw central observers – Union Minister M Venkaiah Naidu and national general secretary Bhupendra Yadav, BJP vice-president Om Mathur, state party chief Keshav Prasad Maurya and other senior party leaders in full attendance.
Adityanath's elevation can strengthen BJP's 'Hindutva' establishment in the state, but may provide enough fodder to the opposition to attack the saffron party on lines of 'divisive politics'.
A long-time BJP MP from Gorakhpur, Yogi Adityanath is also the head priest of the Gorakhnath temple in the eastern UP city. Adityanath has been winning the Gorakhpur seat in UP since 1998; at 26, he was the youngest MP in the 12th Lok Sabha.
In 2002, Yogi Adityanath founded the Hindu Yuva Vahini. Labelled a socio-cultural outfit, its volunteers were known to use strong-arm tactics in riots, cow-protection drives and to stop 'love jihad'. HYV has its presence across Gorakhpur, Mau, Deoria, Kushinagar, Maharajganj, Basti, Sant Kabir Nagar and Siddharthnagar.
Discussion
2 Responses to "Yogi Adityanath is new Chief Minister of Uttar Pradesh"